Exposure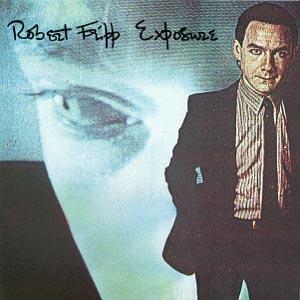 Tracklist
A1
Preface
1:20
Notes:

Daryl Hall - Choir
Brian Eno - Other [Indiscretions]
Peter Gabriel - Other [Indiscretions]
Robert Fripp - Written-By

A2
You Burn Me Up I'm A Cigarette
2:23
Notes:

Tony Levin - Bass
Jerry Marotta - Drums
Robert Fripp - Guitar, Electronics [Frippertronics], Written-by [Words]
Daryl Hall - Vocals, Piano
Fripp / Hall - Written By
Daryl Hall - Written-By
Robert Fripp - Written-By

A3
Breathless
4:41
Notes:

Tony Levin - Bass
Narada Michael Walden - Drums
Robert Fripp - Guitar, Electronics [Frippertronics]
Robert Fripp - Written-By

A4
Disengage
2:46
Notes:

Tony Levin - Bass [Guitar]
Phil Collins - Drums
Robert Fripp - Guitar, Electronics [Frippertronics]
Joanna Walton - Lyrics By [Words]
Barry Andrews - Organ
Edie Fripp - Other [Indiscretions]
Peter Hammill - Vocals
Fripp / Hammill / Walton - Written By
Peter Hammill - Written-By
Robert Fripp - Written-By

A5
North Star
3:06
Notes:

Tony Levin - Bass [Guitar]
Phil Collins - Drums
Robert Fripp - Guitar
Sid McGinnis - Guitar [Pedal Steel]
Joanna Walton - Lyrics By [Words]
Brian Eno - Synthesizer
Daryl Hall - Vocals
Fripp / Hall / Walton - Written By
Daryl Hall - Written-By
Robert Fripp - Written-By

A6
Chicago
2:12
Notes:

Tony Levin - Bass
Jerry Marotta - Drums
Robert Fripp - Guitar, Electronics [Frippertronics]
Joanna Walton - Lyrics By [Words]
Peter Hammill - Vocals
Fripp / Hall / Walton - Written By
Daryl Hall - Written-By
Robert Fripp - Written-By

A7
NY3
2:16
Notes:

Tony Levin - Bass
Narada Michael Walden - Drums
Robert Fripp - Guitar, Electronics [Frippertronics]
Barry Andrews - Organ
Robert Fripp - Written-By

A8
Mary
2:06
Notes:

Robert Fripp - Guitar, Electronics [Frippertronics]
Joanna Walton - Lyrics By [Words]
Terre Roche - Vocals
Fripp / Hall / Walton - Written By
Daryl Hall - Written-By
Robert Fripp - Written-By

B1
Exposure
4:25
Notes:

Tony Levin - Bass
Jerry Marotta - Drums
Steve Short - Engineer [Track]
Sid McGinnis - Guitar [Rhythm]
Robert Fripp - Guitar, Electronics [Frippertronics]
Terre Roche - Vocals
Brian Eno - Voice [Spoken Letters]
Robert Fripp - Voice [Spoken Letters]
Fripp / Gabriel - Written By
Peter Gabriel - Written-By
Robert Fripp - Written-By

B2
Häaden Two
2:53
Notes:

Tony Levin - Bass
Jerry Marotta - Drums
Robert Fripp - Guitar, Electronics [Frippertronics]
Robert Fripp - Written-By

B3
Urban Landscape
2:35
Notes:

Robert Fripp - Electronics [Frippertronics]
Robert Fripp - Written-By

B4
I May Not Have Had Enough Of Me But I've Had Enough Of You
3:50
Notes:

Tony Levin - Bass
Narada Michael Walden - Drums
Robert Fripp - Guitar
Joanna Walton - Lyrics By [Words]
Barry Andrews - Organ
Peter Hammill - Vocals
Terre Roche - Vocals
Fripp / Walton - Written By
Robert Fripp - Written-By

B5
First Inaugural Address To The I.A.C.E. Sherborne House
0:03
Notes:

John G. Bennett - Written-By

B6
Water Music I
1:27
Notes:

Robert Fripp - Electronics [Frippertronics]
John G. Bennett - Voice [Taped]
Fripp / Bennett - Written By
John G. Bennett - Written-By
Robert Fripp - Written-By

B7
Here Comes The Flood
4:01
Notes:

Robert Fripp - Electronics [Frippertronics]
Steve Short - Engineer [Track]
Brian Eno - Synthesizer
Peter Gabriel - Vocals, Piano, Written-by [Words]
Peter Gabriel - Written-By

B8
Water Music II
4:16
Notes:

Robert Fripp - Electronics [Frippertronics]
Jim Bonnefond - Engineer
Robert Fripp - Written-By

B9
Postscript
0:37
Notes:

Brian Eno - Other [Indiscretion]
Robert Fripp - Written-By
Credits
Ed Sprigg - Engineer
David Prentice - Engineer [Assistant]
Jon Smith - Engineer [Assistant]
Michael Ruffo - Engineer [Assistant]
Robert Fripp - Engineer [Frippertronics]
Robert Fripp - Producer
Notes
Recorded mainly and mixed entirely at The Hit Factory, New York between January 1978 and January 1979.
Track for "Exposure" recorded at Relight Studios, November 1977.
"Water Music II" recorded at The House Of Music, New Jersey, July 1977.
All Frippertronics other than "Water Music II" recorded at the Fripp Mobile in the Lower East Side, Upper East Side, Hell's Kitchen and the West Village of New York between June 1977 and November 1978.
Strawberry Bricks Entry:
Fripp's post-King Crimson time included guitar lessons with Robin Trower, philosophical studies with J.G. Bennett, and a trip to Berlin to record on David Bowie's Heroes album. He eventually switched base to New York, where he began producing a wide variety of artists, including Daryl Hall (of Hall & Oates), The Roches, and Peter Gabriel. It's no wonder that his debut solo album Exposure was recorded with a host of musicians, including drummers Narada Michael Walden and Phil Collins, Jerry Marotta, Tony Levin and Sid McGinnis on lone from Peter Gabriel's band, along with Barry Andrews from XTC and the ever present Brian Eno. After a snippett of his voice, Darryl Hall adds an edge to the punky "You Burn Me Up I'm A Cigarette" while "Breathless" blasts away in an overt display of the power of Crimson's Red era. In fact, it so musically current, it's a testament to how forward-looking that band was. Peter Hammill's distinctive growl give "Disengage" and "Exposure" a suitable edge, while Hall's smooth blue-eyed soul graces "North Star". Terre Roche's voice floats alongside Fripp's guitar on the beautiful "Mary". A raucous "Exposure", first appearing on Gabriel's second album, opens the second side. Over its white-funk beat Fripp utilizes samples and Frippertronic's to alienate the sound-scape. This furthers on the "incredibly dismal, pathetic chord sequence" of "Haaden Two", while the remainder of the album alternates between a few more rockers (the amazing "I May Not Have Had Enough Of Me But I've Had Enough Of You"), pure Frippertronics ("Water Music I & II") and a stark, haunting re-recording of "Here Comes The Flood", with Peter Gabriel. The album is extremely modern, firmly lining up alongside any of the current "new wave". Originally meant to be released as a part of a trio of albums Fripp produced with Gabriel's second album and Hall's 1977 Sacred Songs, the associated record companies completely nixed the the concept. Commercial it was not, as it failed to chart in any territories, but it was a complete artistic success. Caveat emptor: Fripp has released several different mixes of the album on various formats.