1984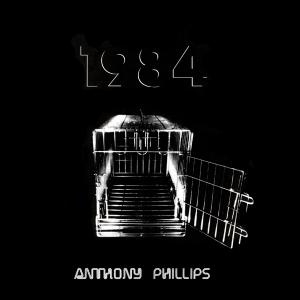 Tracklist
A1
Prelude '84
4:19
A2
1984 (Part 1)
19:06
B1
1984 (Part 2)
15:28
B2
Anthem 1984
2:27
Credits
Bells [Bell Tree], Timpani, Tambourine, Gong, Congas, Vibraslap, Marimba, Vibraphone - Morris Pert
Engineer, Vocoder [Manipulation] - Chris David
Keyboards, Drum Programming [Roland Cr78], Guitar, Percussion, Engineer - Anthony Phillips
Percussion, Effects, Engineer [Assistant] - Richard Scott
Producer - Anthony Phillips
Producer [Assistant] - Richard Scott
Vocoder [Manipulation] - Anita David
Notes
8-track recorded at Send Barns August 1980 to January 1981.
Completed, Mixed at Mosphere Studios, (Lexington Street) February 1981 to March 1981.
1981 Hit and Run Music Production Ltd.
Release comes with printed innersleeve.
Strawberry Bricks Entry:
Curiously, Anthony Phillips's next offering was an album of electronic music released in 1981, and under the title 1984. Assisted by Richard Scott in the studio, Phillips composed and created all of the music exclusively on electronic keyboards, though Morris Pert did add some percussion to the recordings. The Roland CompuRhythm CR-78 was an early programmable drum machine, and its familiar "chirp" can be heard on Phil Collins's classic track, "In the Air Tonight." The Orwellian black-and-white cover image of a cage presents a stark contrast to previous Peter Cross creations, yet the music was divergent as well. "Prelude '84" b/w "Anthem 1984" was issued as a single, but the meat of record is the two-part title track "1984," which encompasses most of the album. Gone are Phillips's pastoral, acoustic compositions; instead, the music is constantly propelled by the driving force of the drum machine. It's a contemporary work, though as lyrical as any of Phillips's previous efforts. Themes reprise themselves, tension ebbs and flows and all of it culminates in a grand vocoder finale. The layers of Polymoog and ARP 2600 synthesizers blast away, forging a landscape of dark beauty; it's a brilliant work and a bold step forward for Phillips. The album was released by RCA Records in the UK, and again on Passport Records in the US. For the remainder of the 80s, Phillips concentrated on his Private Parts & Pieces series. Another curious outlier though was the 1983 album Invisible Men, again recorded with Richard Scott. Ostensibly a pop album, it saw Phillips return to both contemporary song-form and subject matter (the Falklands War) for a final time.