About Time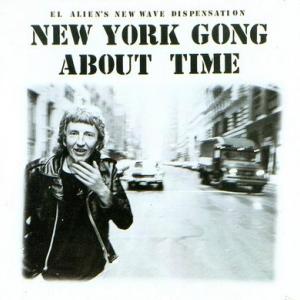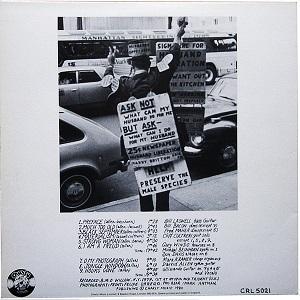 Label:
Charly Records Ltd
Tracklist
A1
Preface
1:28
Notes:

Keyboards - Michael Beinhorn

A2
Much Too Old
2:43
A3
Black September
4:03
A4
Materialism
3:12
A5
Strong Woman
4:30
A6
I Am a Freud
1:46
Notes:

Saxophone - Don Davis

B1
O My Photograph
9:10
B2
Jungle Windo(w)
6:19
Notes:

Saxophone - Gary Windo

B3
Hours Gone
4:05
Notes:

Organ - Kramer
Credits
Bass – Bill Laswell
Drums – Bill Bacon (tracks: A1 to A6, B2, B3), Fred Maher (tracks: A1 to A4, B1 to B3)
Guitar – Cliff Cultreri (tracks: A2 to A4, B2, B3)
Guitar, Vocals – Daevid Allen
Producer – Daevid Allen
Strawberry Bricks Entry:
Longtime rock impresario and Gong manager Giorgio Gomelsky found himself in New York in the late 70s, partially involved with RCA/Utopia records, but also arriving at the beginning of the "no wave" movement. He started the Zu Club; and a young Bill Laswell, along with drummer Fred Maher and keyboardist Michael Beinhorn, formed the house band. At the invitation of Gomelsky, Allen traveled to New York City in 1978 to be part of the Zu Manifestival in October, and enlisted Laswell and friends as his backing group. A busy lot, they toured Gong's trilogy music in 1979, and recorded an album of original material as New York Gong. About Time saw release on Charly Records, and was the first of many records from their sessions together. While the mix of young New York musicians and an old psychedelic legend might seem unlikely, it's a testament to Allen's genius that the record holds together so well. Allen rants over the percolating blurbs and beeps of "Preface," before the album ignites with the sardonic wit of "Much Too Old." The musical twists and turns may be familiar, but the band offer an edgy work that looks surprisingly forward. The instrumental "Materialism" offers proof of Laswell's budding (and dubbing) genius. "Strong Woman" offers a poignant lyric, while "Jungle Windo(w)" features saxophonist Gary Windo. Future collaborator Mark Kramer lends a pair of hand on the closing "Hours Gone." A tour of Europe in 1979 proved to be New York Gong's undoing, however the band amicably parted ways with Allen. Laswell and company famously continued as Material, while Allen, undeterred, armed himself with tapes and videos to embark on a solo tour of the US and Canada in 1980, dubbed the Divided Alien Playbax. However, when the tour ended, he returned to his native Australia and his family for semi-retirement in Byron Bay.