Adonis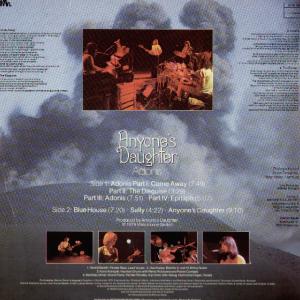 Artist:
Anyone's Daughter
Tracklist
B1
Blue House
7:20
B2
Sally
4:22
B3
Anyone's Daughter
9:10
Credits
Kono Konopik - Drums
Harald Bareth - Electric Bass [Fender], Lead Vocals
Uwe Karpa - Electric Guitar [6 And 12-string]
Christoph Wertz - Engineer
Johannes Wohlleben - Engineer
Matthias Ulmer - Grand Piano, Electric Piano [Fender Rhodes], Organ [Hammond], Synthesizer [Arp Omni, Minimoog], Engineer, Vocals
Helmut Ehmann - Photography By [Live]
Alster-Atelier - Photography By, Design
Anyone's Daughter - Producer
Werner Bauer - Producer
Notes
P. 1979 Metronome GmbH
Strawberry Bricks Entry:
Founded in Stuttgart in the early 70s by guitarist Uwe Karpa and keyboardist Matthias Ulmer, the band took its name from the Deep Purple song of the same name. Just teenagers, they spent the next few years playing covers of English groups in youth centers, with original drummer Sascha Pavlovic and others. But by the time their 1979 album Adonis was released on the Brain/Metronome label, both lead vocalist and bassist Harald Bareth and drummer Kono Konopik were in place. The starting point is British progressive rock, with a healthy dose of post-Gabriel Genesis. Both Karpa and Ulmer are virtuosos, and there's no shortage of their talent within. "Adonis" covers the album's first side, with the opening section "Come Away" opening with authority. When the track breaks down, pinned by Bareth's heavy bass, it's as good as neo-progressive rock would get. The remainder of the side powers forward, though fidgety at times. The second side's instrumental "Blue House" goes for a big, sweeping widescreen presentation, while the title track features more of Ulmer and Karpa's histrionics. For their second album, Anyone's Daughter, the band switched labels to Spiegelei. They had a regional hit single in "Moria" b/w "Superman," but not unexpectedly: like the album, it moves to the more commercial side of prog rock. All would be rectified on their third album, 1981's Piktors Verwandlungen (Pictor's Metamorphoses). Based on the fairy tale by Hermann Hesse, with German text recited by Bareth, it's an instrumental powerhouse of neo-progressive sounds. The album, recorded live in concert, would become the band's bestselling. From here, Anyone's Daughter sang exclusively in German, but after a further two albums, the band called it quits, with Ulmer and Karpa leaving to complete their military conscription.