The Aerosol Grey Machine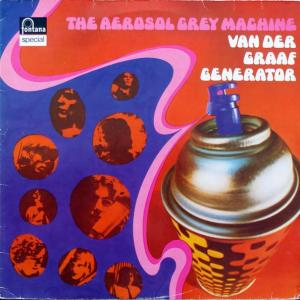 Artist:
Van Der Graaf Generator
Tracklist
A1
Afterwards
4:53
A2
Orthenthian St. (Part I)
2:23
A3
Orthenthian St. (Part II)
3:53
A4
Running Back
6:32
A5
Into A Game
6:56
B1
Aerosol Grey Machine
0:56
B2
Black Smoke Yen
1:18
B3
Aquarian
8:27
B4
Necromancer
3:30
B5
Octopus
7:41
Credits
Bass, Backing Vocals - Keith Ellis
Drums, Percussion - Guy Evans
Engineer - Gerry Collins
Engineer - Robin Geoffrey Cable
Flute - Jeff Peach
Piano, Organ, Percussion, Backing Vocals - Hugh Banton
Producer - John Anthony
Vocals, Guitar [Acoustic] - Peter Hammill
Notes
Recorded at Trident Studios, London July 31 / August 1, 1969; except "Afterwards" & "Necromancer", recorded in one afternoon in January 1969 at Marquee Studios, London.
Strawberry Bricks Entry:
Here begins the musical quest of Van der Graaf Generator. Led by the indefatigable Peter Hammill, he would divide his time between leading VdGG and a prolific solo career over the next decade; though where those lines separate could at times prove difficult to identify. The band had already been through a couple of iterations by the time it got around to recording The Aerosol Grey Machine. Hammill and Chris Judge Smith first formed the band with organist Nick Pearne in 1968 while still at Manchester University. Moving to London, the duo spent the next year attempting to record, having already secured a recording contract with Mercury Records. More fruitful was the assembly of a full band, with Hugh Banton on organ, Guy Evans on drums and Keith Ellis on bass, as well as a relationship with Charisma impresario Tony Stratton-Smith. However, Judge left the band after they recorded their first single "People You Were Going To" b/w "Firebrand;" and after a few gigs, their equipment was stolen and the band split up. Though he'd originally planned to record a solo album, Hammill rounded up the others in July 1969 to record what was eventually released as the first VdGG album. "Afterwards" opens and immediately reveals the album's promise: a gentle, indeed, beautiful song that introduces Hammill's highly emotional voice, which is as distinct as his songwriting. The following the two parts of "Orthenthian St." and "Into a Game" provide further insight into what the band could offer. Evans's delicate drumming and Banton's monstrous organ would remain hallmarks of VdGG, while Ellis's thick, rhythmic bass would only propel this album. Both "Necromancer" and "Octopus" continue to demonstrate the band's virtuosity; and in true VdGG fashion, the album closes in a chaotic finale. Oddly, the album was only released in the US.