Airconditioning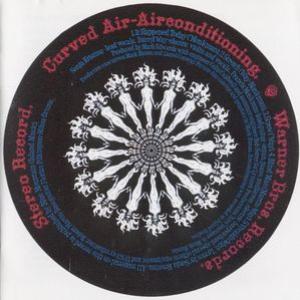 Label:
Warner Bros. Records
Tracklist
A1
It Happened Today (Curved Air, Monkman, Francis)
5:02
A2
Stretch (Curved Air, Way, Darryl)
4:06
A3
Screw
4:02
A4
Blind Man
3:35
A5
Vivaldi
7:33
B1
Hide And Seek
6:19
B2
Propositions (Curved Air, Monkman)
3:09
B3
Rob One (Curved Air, R. Martin)
3:27
B4
Situations (Curved Air, Way, Darryl)
6:24
B5
Vivaldi (with Cannons)
1:37
Credits
Bass Guitar – Robert Martin (2)
Drums – Florian Pilkington-Miksa
Engineer – Colin Caldwell
Engineer [Assistant] – Bob Potter
Executive-producer [Lymark Productions] – Lionel Conway, Mark Hanau
Guitar, Organ, Piano, Harpsichord [Electric], Mellotron, Synthesizer [Vcs3 & Special Effects Equipment] – Francis Monkman
Management, Design Concept, Graphics [Picture Disc Concept And Graphics] – Mark Hanau
Producer – Mark Edwards (5)
Typography [Typesetting] – Conways (2)
Violin [Electric], Keyboards, Vocals – Darryl Way
Vocals – Sonja Kristina
Strawberry Bricks Entry:
Named after Terry Riley's A Rainbow In Curved Air, Curved Air was another novel group of the progressive era; and the band had no shortage of talent, either. Violinist Darryl Way was a Royal College of Music graduate, while multi-instrumentalist Francis Monkman came from the competing Royal Academy of Music. Seeking to meld their knowledge of classical music and rock, the two joined forces as Sisyphus in 1969, adding drummer Florian Pilkington-Miksa and bassist Robert Martin. They morphed into Curved Air when they added one of the most unlikely of progressive devices-the female voice! They found a more than capable singer in Sonja Kristina (Linwood), recently released from the London production of Hair. She had her start in London's folk scene, including the Troubadour Club. The group's debut album Air Conditioning was issued by Warner Bros Records. As the opening track (and single) "It Happened Today" demonstrates, the band's music was ripe with West Coast influence. The second half of the album ascends into more classically-inspired territory; but overall, the album's highbrow orchestral embellishments are on a par with the average songwriting, with one big exception: Way's majestic crescendos on "Screw." That's not to say that the album isn't without some redemption. Monkman's echoed guitar work on "Propositions" is unique, as is his Mellotron on Way's "Situations." But even Way's violin tour de force "Vivaldi" ends up a screechy mess. Their debut album has the distinction of being the first picture disc, which no doubt helped propel it into the UK Top 10.