Animals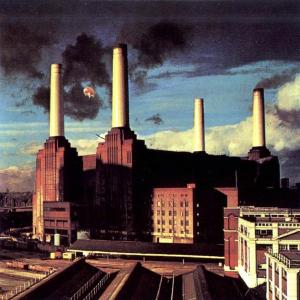 Tracklist
A1
Pigs On The Wing (Part One)
1:24
Notes:

Written-By - Roger Waters

A2
Dogs
17:01
Notes:

Written-By - David Gilmour
Written-By - Roger Waters

B1
Pigs (Three Different Ones)
11:20
Notes:

Written-By - Roger Waters

B2
Sheep
10:22
Notes:

Written-By - Roger Waters

B3
Pigs On The Wing (Part Two)
1:24
Notes:

Written-By - Roger Waters
Credits
Artwork By [Graphics] - Nick Mason
Design [Sleeve] - Roger Waters
Engineer - Brian Humphries
Lyrics By - Roger Waters
Other [Organised By] - Aubrey Powell
Other [Organised By] - Storm Thorgerson
Photography - Bob Brimson
Photography - Bob Ellis
Photography - Colin Jones
Photography - Howard Bartrop
Photography - Nic Tucker
Photography - Peter Christopherson
Producer - Pink Floyd
Notes
Recorded at Britannia Row Studios, London
Inflatable Pig Designed by E R G, Amsterdam
Published by Pink Floyd Music Publishers, Inc. (BMI)
© 1977 Pink Floyd Music Ltd.
℗ 1977 Pink Floyd Music Ltd.
Manufactured by Columbia Records / CBS Inc.
Track durations not listed on the release.
Later Pressings with barcode are also available.
Strawberry Bricks Entry:
Following the release of their last album in 1975, Pink Floyd had spent 1976 sinking hundreds of thousands of pounds into their Britannia Row Studios, where Animals was recorded. The bulk of the album had already been written before the session; "Dogs" first appeared in 1974 as "You Gotta Be Crazy," while "Sheep" was previously "Raving and Drooling." Roger Waters again dominates the picture, providing the album's grand and Orwellian concept. Dividing people into groups of dogs, pigs and sheep provided for some interesting lyrical matter (including a spattering of Psalm 23), but never mind a deeper meaning; one ultimately gets the feeling that Waters hates them all. Both memorable and unmemorable at the same time, his brief acoustic "Pigs on the Wing Parts 1 & 2" bookend the record. Waters's "Pigs (Three Different Ones)" is new material, though it certainly wouldn't have been out of place on the preceding album. Rick Wright and David Gilmour both provide some of their most heroic performances on record; in particular, check out the latter's guitar solo on "Dogs." Moreover, the album stands as one of the band's hardest rocking affairs, and perhaps one of their most listenable. The well-matured tracks are perfect constructs, and the production is well-suited for the material. Aubrey Powell's black-and-white photography furthers the Orwellian motif. In fact, the album's visual element—of a pig flying over the smoke stacks of England's Battersea Power Station—would provide a lasting image for the band, and one that featured prominently on the subsequent In The Flesh tour and, a decade later, in lawsuits. Though failing to top the charts, it earned Pink Floyd No. 2 and No. 3 spots in the UK and US, respectively. Not bad, considering that "punk" had just broke.