Another Green World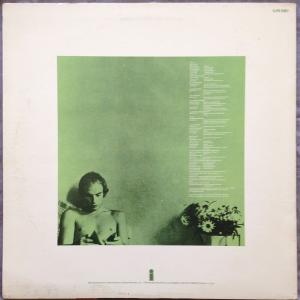 Tracklist
A1
Sky Saw
3:27
Notes:

Paul Rudolph - Bass [Anchor]
Percy Jones - Bass [Fretless]
Phil Collins - Drums
Rod Melvin - Electric Piano [Rhodes]
Brian Eno - Guitar [Snake], Guitar [Digital]
John Cale - Viola

A2
Over Fire Island
1:51
Notes:

Percy Jones - Bass [Fretless]
Phil Collins - Drums
Brian Eno - Synthesizer, Guitar, Tape

A3
St. Elmo's Fire
3:01
Notes:

Robert Fripp - Guitar
Brian Eno - Organ, Piano, Pedalboard [Yamaha Bass Pedals], Percussion [Synthetic], Guitar [Desert]

A4
In Dark Trees
2:32
Notes:

Brian Eno - Guitar, Synthesizer, Percussion [Electric], Effects [Treated Rhythm Generator]

A5
The Big Ship
2:37
Notes:

Brian Eno - Synthesizer, Percussion [Synthetic], Effects [Treated Rhythm Generator]

A6
I'll Come Running
3:50
Notes:

Paul Rudolph - Bass, Percussion [Snare Drum], Bass Guitar, Guitar [Castanet]
Brian Eno - Guitar [Castanet], Piano [Chord], Synthesizer, Percussion [Synthetic]
Robert Fripp - Lead Guitar
Rod Melvin - Piano [Lead]

A7
Another Green World
1:42
Notes:

Brian Eno - Guitar [Desert], Organ [Farfisa], Piano

B1
Sombre Reptiles
2:23
Notes:

Brian Eno - Organ [Hammond], Guitar, Percussion [Synthetic And Peruvian], Effects [Electric Elements], Sounds [Unnatural]

B2
Little Fishes
1:32
Notes:

Brian Eno - Piano [Prepared], Organ [Farfisa]

B3
Golden Hours
4:00
Notes:

Robert Fripp - Guitar
Brian Eno - Organ [Choppy], Percussion [Spasmodic], Guitar [Club], Piano [Uncertain]
John Cale - Viola

B4
Becalmed
3:55
Notes:

Brian Eno - Piano [Leslie], Synthesizer

B5
Zawinul/Lava
2:56
Notes:

Percy Jones - Bass [Fretless]
Rod Melvin - Electric Piano [Rhodes]
Brian Eno - Grand Piano, Synthesizer, Organ, Tape
Paul Rudolph - Guitar
Phil Collins - Percussion

B6
Everything Merges With The Night
4:03
Notes:

Brian Turrington - Bass Guitar, Piano
Brian Eno - Guitar

B7
Spirits Drifting
2:47
Notes:

Brian Eno - Bass Guitar, Organ, Synthesizer
Credits
Brian Eno - Composed By
Rhett Davies - Engineer
Barry Sage - Engineer [Assistant]
Guy Bidmead - Engineer [Assistant]
Robert Ash - Engineer [Assistant]
Tom Phillips - Painting
Ritva Saarikko - Photography By [Back Cover]
Brian Eno - Producer
Rhett Davies - Producer
Bob Bowkett - Typography
Notes
Alternate black Island labels.
Manufactured and distributed by Island Records, Inc., 7720 Sunset Boulevard, Los Angeles, California 90046 / Printed in U.S.A.
Strawberry Bricks Entry:
Having recused himself from Roxy Music, Brian Peter George Eno set upon a solo career. His first two albums, 1974's Here Come the Warm Jets and Taking Tiger Mountain (By Strategy), were planted firmly in the glam and art rock of his former band; however, Eno's forte was experimentation, with a revisionist outlook towards rock 'n' roll. Eno's third vocal record, Another Green World, is generally regarded as his finest. The album hosts a veritable cast of musicians from the timeline, including Robert Fripp, Percy Jones, Phil Collins and Paul Rudolph. Alternating between so-called pop songs and instrumental vignettes, the album is pure Eno. Using he and Peter Schmidt's Oblique Strategies cards, he uses chance to guide compositions and literal descriptions to find sounds: "Wimshurst guitar," "anchor bass," "choppy organs," and so forth. The deadpan "I'll Come Running to tie Your Shoe" is classic, as well as the plaintive "St. Elmo's Fire." The treatments Eno applies to the songs are more interesting as the songs themselves—sound for sound's sake—which speaks to Eno's compositional modus operandi: it's really not about the destination the song brings, but rather the journey while it's playing. To wit, witness "In Dark Trees," "Becalmed" or the title track. From here, Eno's career would follow two paths, one continuing his pop muse into production (and a final vocal album), and the other exploring process or "non-music," beginning with Discreet Music for his Obscure Records in late 1975. In 1976, Eno would then venture off to Germany to work with Cluster's like-minded Roedelius and Moebius and collaborate on the first of a legendary trio of albums with David Bowie, as well as participate in the 801 supergroup with Phil Manzanera, Bill MacCormick, Francis Monkman and others.