Au-Delà Du Délire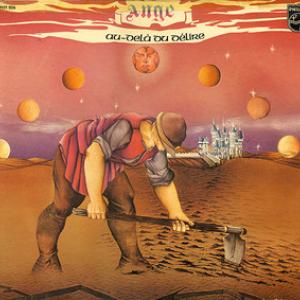 Tracklist
A1
Godevin Le Vilain
2:57
A2
Les Longues Nuits D'Isaac
4:10
Notes:

Written-By - Francis Decamps

A3
Si J'Etais Le Messie
3:00
Notes:

Written-By - Gérard Jelsch

A4
Ballade Pour Une Orgie
3:22
Notes:

Written-By - J.M. Brézovar

A5
Exode
5:00
Notes:

Written-By - Francis Decamps

B1
La Bataille Du Sucre (Inclus: "La Colère Des Dieux")
6:30
Notes:

Written-By - Daniel Haas

B2
Fils De Lumière
3:20
Notes:

Written-By - Francis Decamps

B3
Au-Delà Du Délire
8:20
Notes:

Written-By - J.M. Brézovar
Credits
Written-By - Christian Decamps
Notes
(P) 1974 Philips
SACEM/SDRM Made in France
Fold-out insert with lyrics.
Strawberry Bricks Entry:
France never really took to rock 'n' roll the way other Europeans did; in the 60s, French rock bands were few and far between, the yé-yé of Johnny Hallyday notwithstanding. Yet in the early 70s, "rock progressif" slowly infiltrated French culture; and of those bands that did emerge (Atoll, Catharsis, Mona Lisa), Ange was certainly the most quintessential. Formed in 1970 by brothers Christian and Francis Décamps, the band had consolidated into their most classic lineup in 1971, with Jean-Michel Brézovar on guitar, Daniel Haas on bass and Gérard Jelsch on drums. Their debut album, Caricatures, saw release in 1972 on the Phillips label, and immediately reveals their sonic signature: foreboding melodies of Francis's Viscount organ punctuated by the rest of the band's stop/start dynamic. Of course, the most identifiable trait was Christian's partly sung, partly spoken "chant." 1973's Le Cimetière des Arlequins followed, earning the band their first gold record. But Ange's crowning achievement is the excellent Au-delà du Délire ("Beyond Delirium"), released in 1974. The violin that opens "Godevin le Vilain" succinctly points out the obvious: Ange's music could only be French. Unfortunately for the non-speaker, the degree of theatre and drama within Christian's delivery defies mere translation. "Les Longues Nuits d'Isaac" cranks up the prog rock quotient, Christian's impassioned delivery now just as electric. With acoustic guitars picking away, the central melody of "Ballade Pour Une Orgie" is magnificent and lighter than the typically dark, sweeping melodies and progressive aplomb that dominate the album. The second side blasts off with "Exode;" the symphonic introduction and fiery close are reminiscent of Genesis' earlier work, but Ange are by no means a reproduction. "La Bataille Du Sucre" offers more of the band's cabaret, while "Fils de Lumière" follows with another electric workout. Although relatively raw and unsophisticated, the album is still perfectly detailed; just listen to the title track's beautiful melody. Its arrangement and instrumentation provide one of the more resplendent examples of early 70s prog rock; regardless of it sounding dated, it's nonetheless a true classic. Like Hallyday, the band never found commercial success outside the French-speaking world. And although their 1976 release, Par les fils de Mandrin, saw a re-recording in English (as By The Sons Of Mandrin), it was quickly withdrawn soon after release (the band was not happy with it). The band soldiered on well into the 80s, releasing albums of varying quality over continually shifting lineups.