Befour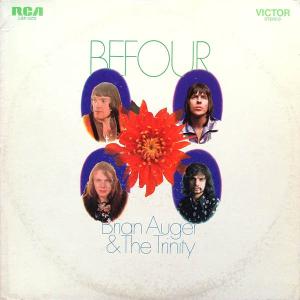 Artist:
Brian Auger & The Trinity
Tracklist
A1
I Wanna Take You Higher
5:00
Notes:

Sylvester Stewart - Written-By

A2
Pavane
3:43
Notes:

Gabriel Fauré - Written-By

A3
No Time To Live
5:25
Notes:

Jim Capaldi - Written-By
Steve Winwood - Written-By

A4
Maiden Voyage
4:58
Notes:

Herbie Hancock - Written-By

B1
Listen Here
9:24
Notes:

Colin Allen - Bass Drum [Bass Drum Rhythms]
Roger Sutton - Bass [Bottom Bass Line]
David Ambrose - Bass [Top Bass Line]
Mick Waller - Cymbal [Cymbal Rhythms]
Clive Thacker - Drums [Lead Drums & Fill Ins]
Barry Reeves - Snare [Snare Drum Rhythms], Cowbell
Eddie Harris - Written-By

B2
Adagio Per Archi E Organo
3:27
Notes:

Tomaso Albinoni - Written-By

B3
Just You Just Me
6:26
Notes:

Brian Auger - Written-By
Credits
David Ambrose - Bass, Backing Vocals [Harmony]
Clive Thacker - Drums, Percussion, Backing Vocals [Harmony]
Eddy Offord - Engineer
Gary Boyle - Lead Guitar, Vocals, Backing Vocals [Harmony]
Shepard Sherbell - Photography, Layout
Brian Auger - Producer, Organ, Piano, Electric Piano, Vocals
Notes
Recorded at Advision Studios, London, July & *December [B1], 1969.
Nasty Productions Limited
Photography & Layout: Holland Park Studios London
Chrysanthemum bud by Moyses Stevens Ltd.
℗ 1970, RCA Records, New York, N.Y. • Printed in U.S.A.
BMI [A1, A4 to B3]
ASCAP [A3]
RCA Corporation—Made in U.S.A.
Strawberry Bricks Entry:
Hailing from Hammersmith, London, Brian Auger was a jazz pianist and session man, most notable for playing the harpsichord on The Yardbirds' single "For Your Love" b/w "Got to Hurry" in March 1965. Later, Auger became a member of Steampacket with singers Julie Driscoll, Long John Baldry and Rod Stewart, where he shined on the Hammond organ. The band, however, produced no real recordings (apart from some demos); so along with Driscoll and Victor Briggs, they next formed The Trinity, scoring a No. 5 hit in 1968 with Bob Dylan's "This Wheel's on Fire" b/w "A Kind of Love-In." Departing with Driscoll in 1969, Auger then teamed with Dave Ambrose, Clive Thacker and Gary Boyle for another album, Befour, released in July 1970. The album opens with a stiff cover of Sylvester "Sly" Stewart's "I Wanna to Take You Higher;" though, of course, Auger's command of the Hammond organ is second to none. Cover versions fill the remainder of the first side, ranging from French composer Gabriel Fauré to Traffic and Herbie Hancock. In particular, the latter's "Maiden Voyage" is best suited for the quartet, offering a sublime slice of fusion, with Boyle's clean lines are the perfect complement to Auger's Hammond tone. The second side adds further covers, including another stab at classical music, before closing with Auger's supreme groove on "Just You Just Me." Auger then split with both Trinity and manager Giorgio Gomelsky, and formed his Oblivion Express in 1970, most notably with Robbie McIntosh and Jim Mullen. Singer Alex Ligertwood joined for the album Second Wind, but by 1972, Trinity had collapsed and Auger moved to Paris. He eventually regrouped the band and found success touring the US with his soulful music. After a series of live albums, a final studio album appeared in 1977.