Brian Davison's Every Which Way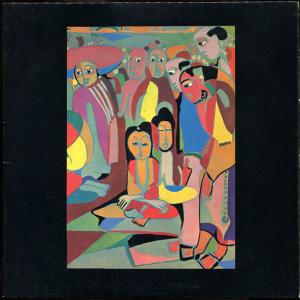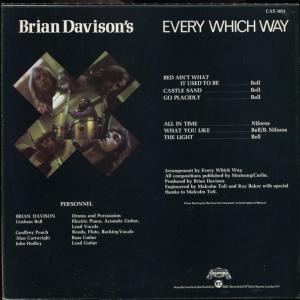 Artist:
Brian Davison / Every Which Way
Tracklist
A1
All In Time
Notes:

Maria Niforos - Written-By

A2
What You Like
Notes:

Graham Bell - Written-By
Maria Niforos - Written-By

A3
The Light
Notes:

Graham Bell - Written-By

B1
Bed Ain't What It Used To Be
Notes:

Graham Bell - Written-By

B2
Castle Sand
Notes:

Graham Bell - Written-By

B3
Go Placidly
Notes:

Graham Bell - Written-By
Credits
Alan Cartwright - Bass Guitar
Brian Davison - Drums, Percussion
Graham Bell - Electric Piano, Acoustic Guitar, Lead Vocals
Malcolm Toft - Engineer
Roy Thomas Baker - Engineer
John Hedley - Lead Guitar
Nan Cuz - Painting [Cover]
Brian Davison - Producer
Geoffrey Peach - Reeds, Flute, Backing Vocals
Notes
Cover painting by Nan Cuz from the book In The Kingdom Of Mescal
On the back cover side A and B have been interchanged.
Strawberry Bricks Entry:
Following the breakup of The Nice earlier in the year, drummer Brian Davison assembled a band under the moniker Every Which Way and recorded an eponymous album for Charisma. A key member of the group was Graham Bell, previously the singer for English psych act Skip Bifferty. Not only did Bell contribute vocals, guitar and keyboards, but he also wrote most of of the material for the album. The opening track, "All in Time," credited to Maria Niforos (Davison's then-wife), cops a Traffic-esque vibe; like Lee Jackson's contemporaneous work, Every Which Way is also a mellow affair. "What You Like" features the rhythm of Davison and bassist Alan Cartwright; although the group's namesake, Davison's role as drummer is strictly providing the music's solid foundation. The epic "The Light" rides a slow burning stoner groove, with excellent solo guitar from John Headley and reeds from Geoffrey Peach. The second side's "Bed Ain't What It Used to Be" is a simple tune, accented by Bell's soulful voice. "Castle Sand" adds flute and invokes a King Crimson feeling, while the effervescent "Go Placidly" was the album's single. Despite such a strong showing by all, the album sank without a trace, and that was it for Every Which Way. Headley was next in the Newcastle-based Last Exit (with Sting) while Cartwright would end up in Procol Harum. Bell was off to Bell + Arc and a solo album for Charisma, and later would participate in the orchestral version of Tommy. Davison's next stint was reuniting with Jackson in Refugee. After working with Gong and Roy Harper in the mid-70s, he eventually became a drum instructor at Bideford College in Devon.