Cluster & Eno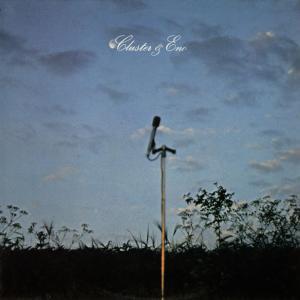 Artist:
Cluster / Brian Eno
Tracklist
A1
Ho Renomo
5:10
Notes:

Holger Czukay - Performer [Mit]

A2
Schöne Hände
3:00
A3
Steinsame
4:20
A4
Wehrmut
5:00
B1
Mit Simaen
1:30
B2
Selange
3:30
B3
Die Bunge
3:50
B4
One
6:00
Notes:

Asmus Tietchens - Performer [Mit]
Okko Bekker - Performer [Mit]

B5
Für Luise
3:50
Credits
Cluster - Cover
Jürgen Krämer - Engineer [Assistent]
Conny Plank - Engineer [Ton Ing.]
G. F. Pfanz - Mastered By
Brian Eno - Music By
Dieter Moebius - Music By
Hans-Joachim Roedelius - Music By
Cluster - Producer [Produktion]
Conny Plank - Producer [Produktion]
Notes
Recorded June 1977 at Conny's Studio.
p. 1977
Conny Plank credited as "C. Plank" and "Plank" on cover, "K. Plank" on labels.
Strawberry Bricks Entry:
When Brian Eno arrived in Germany, he had just begun his foray into ambient music. In the meantime, Cluster had switched to Sky Records and released Sowiesoso in 1976. Amidst his work with David Bowie on the so-called Berlin trilogy, Brian Eno began a collaboration with Roedelius and Moebius. The first, billed as Cluster + Eno, saw release in 1977. Recorded at Conny Plank's studio in June, the album is quite ambient in nature. The tinkling piano of "Ho Renomo" opens, revealing a simple improvisation, with Can's Holger Czukay adding bass. "Schöne Hände" features some nice synth work, but it's obvious that the exploration here is that of sound and texture, and not necessarily composition. "Wehrmut" and "Mit Simaen" barely crawl over their piano motifs, though "Selange" offers a bit of rhythm and melody. "One" turns presumably to the inside of a piano, rendering it a slightly Eastern bent, while the closing "Für Luise" epitomizes their slow-building landscapes. Befittingly, the album's cover features a lone microphone and stand held up to the sky. Next, Eno then camped up with Harmonia in Forst in September. Recordings, both studio and live, were made, but wouldn't see release until decades later. Another album, After The Heat, billed to Moebius, Roedelius and Eno, saw release in 1979 and is far more substantial in composition, even offering vocals. Both albums did not see release outside of Germany. Cluster would record a couple more albums for the Sky label, the first with Peter Baumann producing, before Moebius and Roedelius turned to solo work for the ensuing decade.