The Confessions Of Dr. Dream And Other Stories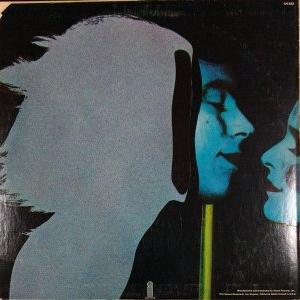 Tracklist
A1
Day By Day
3:36
Notes:

Backing Vocals - Doris Troy
Backing Vocals - Joanne Williams
Backing Vocals - Rosetta Hightower
Clavinet - Rupert Hine
Percussion - G'Deevy Ensemble

A2
See You Later
0:28
Notes:

Backing Vocals - Sean Milligan
Percussion - Ray Cooper

A3
Didn't Feel Lonely Till I Thought Of You
4:08
Notes:

Backing Vocals - Doris Troy
Backing Vocals - Joanne Williams
Backing Vocals - Rosetta Hightower
Guitar [Electric] - Ollie Halsall
Percussion - Rupert Hine

A4
Everybody's Sometime And Some People's All The Time Blues
3:03
Notes:

Guitar [Electric] - Cal Batchelor
Guitar [Electric] - Mike Oldfield
Piano - Henry Crallan

A5
It Begins With A Blessing / Once I Awakened / But It Ends With A Curse
8:14
Notes:

Backing Vocals - Hulloo Choir
Organ - Rupert Hine
Organ - Steve Nye
Piano - Mike Moran
Saxophone - Lol Coxhill

A6
Ballbearing Blues
0:52
Notes:

Electric Piano - Rupert Hine

B1
Part One: Irreversible Neural Damage
Notes:

Acoustic Guitar - Mark Warner
Vocals - Nico

B2
Part Two: Invitation
Notes:

Bass - John Gustafson
Electric Piano - Rupert Hine
Electric Piano - Steve Nye

B3
Part Three: The One Chance Dance
Notes:

Bass - Trevor Jones
Percussion - Ray Cooper

B4
Part Four: Dr. Dream Theme
Notes:

Electric Piano - Steve Nye
Organ - Mike Ratledge

B5
Two Goes Into Four
1:53
Credits
Arranged By [Brass Arrangement] - Simon Jeffes
Artwork By [Illustrations] - George Smith
Artwork By [Illustrations] - James Wedge
Bass - John G. Perry
Design [Cover Designs Conceived And Commissioned By] - Group Five
Drums - Michael Giles
Engineer - John Punter
Engineer - Steve Nye
Engineer [Assistant] - Gerry Leitch
Engineer [Assistant] - Sean Milligan
Guitar [Electric] - Mark Warner
Guitar [Electric] - Sam Mitchell
Guitar, Vocals, Written-By - Kevin Ayers
Mastered By - Porky
Organ - Rupert Hine
Producer - Rupert Hine
Synthesizer [Arp] - Rupert Hine
Notes
Rhythm tracks recorded at Ramport Studios, London.
Recorded and remixed at Air Studios, London.
A Porky cut.
© Blackhill Music, Ltd. 1974
℗1974 Island Records, Ltd.
Mike Oldfield Courtesy Virgin Records
Mike Ratledge Courtesy C.B.S. Records
Contains lyric innersleeve.
Strawberry Bricks Entry:
His contract with Harvest Records fulfilled, Kevin Ayers switched labels and management. The Confessions of Dr. Dream And Other Stories was his debut for Island Records, seeing release in May 1974. Ayers sounds fresh on the two numbers that open, "Day by Day" and "Didn't Feel Lonely Till I Thought of You;" brisk and tuneful, the latter reveals Ollie Halsall's lead guitar for the first time with Ayers, and the female backing vocals offer soul to both tracks. The trio of "It Begins with a Blessing/Once I Awakened/But It Ends with a Curse" is a psychedelic throwback to the Softs era, but with a monstrously big production here. The four-part title track then spans the second side of the album, presenting something much deeper, darker and more progressive than the first side. Nico adds her Teutonic "charm" to the first section, while the remainder of the suite is mostly instrumental. With its varied soundscape, it offers the same challenge and reward of Ayers's previous records. Throughout, Rupert Hine's production is Ayers's clearest and most accessible, anchored, of course, by Michael Giles and John G. Perry's superb rhythm section. Ayers's next studio record wasn't as fortunate. Sweet Deceiver saw release in March of 1975; but despite the backing of both Elton John's management and guest piano, plus straight-up production from Ayers and Ollie "Haircut" Halsall, it fizzled, both commercially and critically. The well-known live record June 1, 1974 also was released around this time on Island. A showcase gig boasting an impressive lineup (Brian Eno, Nico, John Cale, et. al.), it was musically unceremonious, containing just one side of Ayers's music and a second of cover versions. That same year, Ayers collaborated with Eno and David Vorhaus on Lady June's (aka June Campbell Cramer) Linguistic Leprosy. An album of her poetry set to music, it saw release on Caroline Records.