Crac!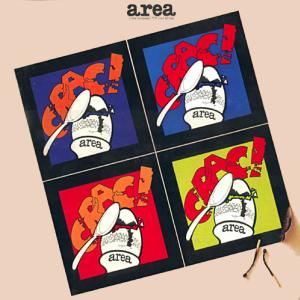 Tracklist
A1
L'Elefante Bianco
4:33
A2
La Mela Di Odessa (1920)
6:27
A3
Megalopoli
7:53
B1
Nervi Scoperti
6:35
B2
Gioia E Rivoluzione
4:40
B3
Implosion
5:00
B4
Area 5
2:09
Credits
Art Direction – Gianni Sassi
Bass Guitar, Trombone – Ares Tavolazzi
Composed By – Ares Tavolazzi (tracks: 1 to 6), Juan Hidalgo (tracks: 7), Paolo Tofani (tracks: 1 to 6), Patrizio Fariselli (tracks: 1 to 6), Walter Marchetti (tracks: 7)
Design – Fabio Bortuzzo, Marco Santini
Drums – Giulio Capiozzo
Electric Guitar, Synthesizer, Flute – Paolo Tofani
Engineer – Piero Bravin
Illustration – Gian Michele Monti
Lyrics By – Frankenstein (5)
Photography – Fabio Simion, Roberto Masotti
Piano, Electric Piano, Bass Clarinet, Percussion, Synthesizer – Patrizio Fariselli
Voice, Organ, Harpsichord, Drums [Stell Drums], Percussion – Demetrio Stratos
Notes
Recorded at Fonoma-Roma-Milano Sound Recording spa/Milano.
Mixed at I.B.C Sound Recording Studios Ltd./Londra.
Strawberry Bricks Entry:
Area was another of Italy's finest exports, albeit rooted in fusion rather than progressive rock. The band was formed by Greek singer and organist Demetrio Stratos in 1972 and included main composer Patrizio Fariselli on keyboards, Paolo Tofani on guitar and Giulio Capiozzo on percussion. The bassist at this point was Patrick Djivas, who would later end up in PFM, while Eddie Busnello added saxophone. Their debut album Arbeit Macht Frei was released on the Cramps label in 1973. Taking the title from a Nazi slogan, the album combined excellent fusion tinged with world influences and a politically-charged message; all of this from the self-proclaimed "International POPular Group." Since it was all sung in Italian though, the politics were essentially lost in translation. However, the voice of Stratos truly transcends language; distinctive, ballsy and aggressive, it's an instrument in and of itself (and something Stratos would explore with composer John Cage a few years later). With Ares Tavolazzi now on bass, the band's second album, Caution Radiation Area, continued in the same fashion, although augmented by more electronic weirdness. Crac!, however, is generally regarded as Area's finest hour. On the opening "L'Elefante Bianco," the power of Stratos's voice is instantly apparent; while "La Mela di Odessa (1920)" continues the band's instrumental fire, until its funky breakdown. Though it takes a while to get there, "Megalopoli" reveals the band's often-missed melodic sense. Next, "Nervi Scoperti" takes flight with a hyper-kinetic fusion gone sideways, while "Implosion" lends a nod to British exports Nucleus or Soft Machine. Italy would serve up a good deal of jazz fusion over the next several years; but Area would remain the benchmark to which it all would be judged. The following year, the band released the live album Are(A)zione, which gives a good approximation of how complex this dual keyboard band was; though 1976's Maledetti was their most avant-garde. Sadly, Stratos would succumb to leukemia in 1979. The remaining members would release another couple of albums before folding in 1980.