Cressida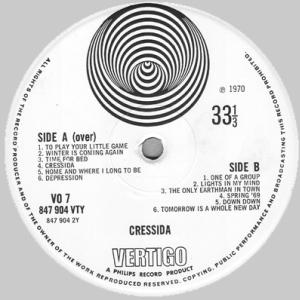 Tracklist
A1
To Play Your Little Game
A2
Winter Is Coming Again
A3
Time For Bed
A4
Cressida
A5
Home And Where I Long To Be
A6
Depression
B1
One Of A Group
B2
Lights In My Mind
B3
The Only Earthman In Town
B4
Spring '69
B5
Down Down
B6
Tomorrow Is A Whole New Day
Credits
Bass - Kevin McCarthy
Design [Cover] - Teenburger
Drums - Iain Clark
Engineer - Robin Thompson
Guitar - John Heyworth
Harpsichord, Piano, Organ - Peter Jennings
Producer - Ossie Byrne
Vocals - Angus Cullen
Vocals - John Heyworth
Notes
Released on a ''swirl'' Vertigo label in a fold-out cover.
Strawberry Bricks Entry:
The roots of Cressida lay in a band, Charge, formed by singer Angus Cullen and guitarist John Heyworth, with bassist Kevin McCarthy and drummer Iain Clark. Named after the Shakespeare play Troilus and Cressida, they rebranded themselves in late 1968, upon the arrival of keyboardist Peter Jennings. With a contract from the newly formed Vertigo Records already in hand, the band spent time in Germany; but before the recording of first album began with producer Ossie Byrne, they split with manager Mike Rosen (later in Mogul Thrash). Released in February 1970, their self-titled debut is a valiant attempt at progressive rock. The stately "To Play Your Little Game" opens the record with a big swing and a beautiful chorus, though thoroughly routed in the 60s. With guitar to the fore, "Winter Is Coming Again" follows, revealing an inner folksiness that carries through to "Time for Bed." The title track opens with Jennings's classically-inspired organ runs, before a nice Mellotron break. Brisk and tuneful, the keyboards mesh well with Cullen's limited vocal range. There's a definite Moody Blues influence within the album's sameness of "Down Down" or "Tomorrow Is a Whole Day," but Cressida can rock much harder: witness the electricity of "Depression." Jennings's organ offers a calliope-like cadence throughout "The Only Earthman In Town," while the closing "Lights In My Mind" may be the band at their best. Touring continued, but Heyworth was replaced by guitarist John Culley prior to the recording of their second album, Asylum. However, the band's fortunes did not pan out, and they split shortly before the album's release. Clark was briefly in Uriah Heep.