Crime Of The Century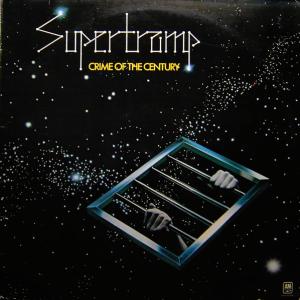 Tracklist
A1
School
5:35
A2
Bloody Well Right
4:26
A3
Hide In Your Shell
6:52
A4
Asylum
6:30
B1
Dreamer
3:33
B2
Rudy
7:18
B3
If Everyone Was Listening
4:01
B4
Crime Of The Century
5:30
Credits
Arranged By [Strings] - Richard Hewson
Art Direction - Fabio Nicoli
Bass - Dougie Thomson
Design [Sleeve], Photography - Paul Wakefield
Drums, Percussion - Bob Siebenberg
Engineer - John Jansen
Engineer - Ken Scott
Producer - Ken Scott
Producer - Supertramp
Saxophone, Clarinet, Vocals - John Helliwell
Vocals, Guitar, Piano - Roger Hodgson
Vocals, Keyboards, Harmonica - Rick Davies
Written-By - Rick Davies & Roger Hodgson
Notes
Recorded at Trident, Ramport Studios and Scorpio Sound, London between February and June, 1974.
Run-out grooves have "ILPS.9037A" and "ILPS.9037B" crossed out on each side of the record, before the actual matrix numbers.
Strawberry Bricks Entry:
Founded in 1969 by Rick Davies, Supertramp initially had the luxury of being funded by a Dutch millionaire, Stanley August Miesegaes. Davies teamed with Rodger Hodgson and recorded two albums, the first of which was an interesting progressive record, reminiscent of Genesis or Caravan in places; the second was known for its cover. But by 1972, they had run out of favor with both their benefactor and their record label. The pair eventually assembled another lineup and set to record their breakthrough album, Crime Of The Century. The Davies/Hodgson-penned songs roughly revolve around the theme of sanity, which gives the album a concept of sorts and draws another parallel with Pink Floyd's Dark Side Of The Moon. The other thing, of course, is the immaculate production, courtesy of Ken Scott. Powered by Hodgson's distinct voice and signature electric piano, the album is slightly more pop-oriented than progressive; but nonetheless, it's a prime example of art rock from the era. The songwriting also is an early example of what would offer success to many British prog rock bands in the 80s and beyond. But I'll give credit where credit's due: Each song is more than memorable, and the band performs flawlessly throughout. The album reached No. 4 in the UK and No. 38 in the US. The single "Bloody Well Right" b/w "Dreamer" charted in the US the following year. Supertramp would then rocket to success (both commercially and artistically) with each successive album, culminating in the perfect pop of Breakfast In America in 1979. After a live double-album in the early 80s, the band would slowly meet their commercial demise, with Davies and Hodgson famously breaking their partnership.