Dance Of The Flames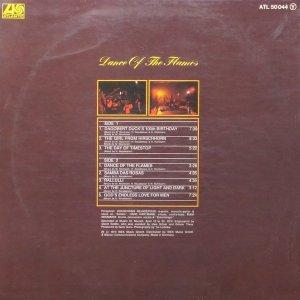 Tracklist
A1
Dagobert Duck's 100th Birthday
7:39
Notes:

Lyrics By - Mani Neumeier
Music By - Hans Hartmann
Music By - Houschäng Nejadépour
Music By - Mani Neumeier

A2
The Girl From Hirschhorn
8:33
Notes:

Lyrics By - Mani Neumeier
Music By - Hans Hartmann
Music By - Houschäng Nejadépour
Music By - Mani Neumeier

A3
The Day Of Timestop
5:22
Notes:

Music By - Houschäng Nejadépour

B1
Dance Of The Flames
3:28
Notes:

Music By - Hans Hartmann
Music By - Houschäng Nejadépour
Music By - Mani Neumeier

B2
Samba Das Rosas
4:05
Notes:

Music By - Houschäng Nejadépour

B3
Rallulli
4:35
Notes:

Music By - Hans Hartmann
Music By - Houschäng Nejadépour
Music By - Mani Neumeier

B4
At The Juncture Of Light And Dark
3:12
Notes:

Music By - Houschäng Nejadépour

B5
God's Endless Love For Men
7:24
Notes:

Music By - Houschäng Nejadépour
Credits
Bass Guitar, Double Bass - Hans Hartmann
Drums, Percussion, Vocals - Mani Neumeier
Electric Guitar, Acoustic Guitar - Houschäng Nejadépour
Engineer - Dave Siddle
Photography - Tai Ludicke
Technician [Assistant Engineer] - Günter Theis
Technician [Assistant Engineer] - U. Schier
Vocals - Houschäng Nejadépour
Notes
Recorded at Studio 70, Munich, April 12 to 20, 1974. Produced by Guru Guru.
Strawberry Bricks Entry:
Following Ax Genrich's departure, Guru Guru added Eiliff's Houschäng Nejadépour on guitar, releasing the histrionics of Dance Of The Flames. It's a great record, combining guitar-heavy, instrumental fusion with the band's usual goofiness. "Dagobert Duck's 100th Birthday" contains the typically quirky Guru Guru melody; but here, a heavy arrangement dominates, with Hans Hartmann's bass up in the mix. "The Girl from Hirschhorn" and "The Day of Timestop" showcase Nejadépour's exceptional guitar playing, with the latter even charting Mahavishnu Orchestra territory. The title track covers similar ground—except for Neumeier's backwards drumming! The band gets acoustic for the next few tracks; "Samba Das Rosas" is just that, while "Rallulli" is ethnically percussive. Nejadépour's solo acoustic guitar track "At the Juncture of Light and Dark" leads into the electric fireworks of "God's Endless Love for Men," reprising the promise of the first side. But it wouldn't last; despite a brief interlude with Gila's Conny Veit, the band broke up in 1974. Neumeier would spend the next year or so doing session work, as part of Genrich's Highdelberg project and, most notably, on Harmonia's Deluxe album. He then worked with Conny Plank to record a solo album for Atlantic in 1975, Mani Und Seine Freunde. Featuring members of Kraan, Karthago, Kollektiv and Harmonia, it wrapped up his post-Guru Guru work experience, while musically-with its funky, up-tempo and Zappa-esque lunacy on "Chicken Rock" and ethereal tribal rhythm on "From Another World"-it pointed to Neumeier's future.