Death Walks Behind You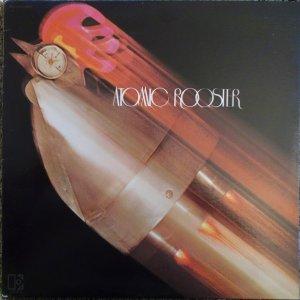 Tracklist
A1
Death Walks Behind You
7:31
Notes:

Written-By - John Du Cann
Written-By - Vincent Crane

A2
Vug
4:59
Notes:

Written-By - Vincent Crane

A3
Tomorrow Night
3:56
Notes:

Written-By - Vincent Crane

A4
7 Streets
6:41
Notes:

Written-By - John Du Cann

B1
Sleeping For Years
5:26
Notes:

Written-By - John Du Cann

B2
I Can't Take No More
3:35
Notes:

Written-By - John Du Cann

B3
Nobody Else
4:42
Notes:

Written-By - Vincent Crane

B4
Gershatzer
8:00
Notes:

Written-By - Vincent Crane
Credits
Arranged By - Vincent Crane
Drums, Percussion - Paul Hammond
Guitar, Lead Vocals - John Du Cann
Organ [Hammond], Piano, Vocals, Bass - Vincent Crane
Producer - Atomic Rooster
Notes
Bass lines played through a combination of strong left hand and foot pedal techniques, coupled with special sound reproduction devices fitted in the Hammond.
Strawberry Bricks Entry:
For Atomic Rooster's next lineup, Vincent Crane teamed up with the talented guitarist John Du Cann, previously in the psychedelic band Andromeda, and Crane's own foot and left hand (on the lower manual of the organ) instead of a bassist. Ric Parnell briefly played drums, but not before Du Cann instead brought in Paul Hammond. Thus constituted, the trio of Crane, Du Cann and Hammond would burn bright during their short existence. Early in 1971, the band released their second album, Death Walks Behind You. Crane's obsession with the darker side of the psyche was not common at the time; and as the title suggests, the album had no shortage of gloom and doom. A consistently heavy rock affair, it's distinguished by Du Cann's guitar playing, but not necessarily his vocals (as the title track attests). The instrumental "Vug" ups the ante, and the interplay between Crane's organ and Du Cann's guitar is incendiary. Bluesy and ballsy, the track epitomizes the band's heavy, chomping sound. "Gershatzer" is another instrumental barnstormer; this time, Hammond lets loose. Several Du Cann compositions grace the record; the best, "Seven (Lonely) Streets," stands out with a shimmering organ arrangement. Crane switches to piano for the more accomplished melody of "Nobody Else," a precursor to what their next album would bring. The single "Tomorrow Night" b/w "Play the Game" peaked just shy of the UK Top 10. The album reached No. 12, and would even break into the Top 100 in the US, where the band had signed to Elektra Records.