Discipline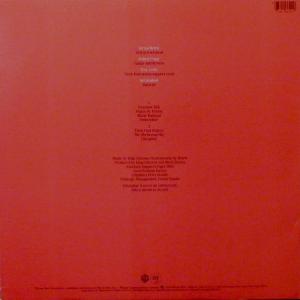 Label:
Warner Bros. Records, EG
Catalog#:
BSK 3629, BSK 3629
Tracklist
A1
Elephant Talk
4:40
A2
Frame By Frame
5:05
A3
Matte Kudasai
3:46
A4
Indiscipline
4:30
B1
Thela Hun Ginjeet
6:23
B2
The Sheltering Sky
8:19
B3
Discipline
5:00
Credits
Tony Levin - Chapman Stick, Bass Guitar, Backing Vocals
Bill Bruford - Drums
Nigel Mills - Engineer [Assistant]
Robert Fripp - Guitar, Electronics [Devices]
Adrian Belew - Guitar, Lead Vocals
King Crimson - Music By
King Crimson - Producer
Rhett Davies - Producer
Adrian Belew - Words By [Elephantosity]
Strawberry Bricks Entry:
After Robert Fripp's League of Gentlemen ceased to be in late 1980, he re-teamed up with drummer Bill Bruford for a new "first-division" venture. First aboard was guitarist Adrian Belew, fresh from a stint with the Talking Heads, while bassist Tony Levin joined up after Bruford's choice, Jeff Berlin, was rejected. The band, Discipline, debuted at Moles Club in Bath, Somerset, on April 30th, 1981. Why and when they became King Crimson is ultimately a matter of course; the change did, however, provide a title for the record, Discipline. "Elephant Talk" opens, offering not only a great lyric from Belew, but also a fresh and modern sound from the band. "Frame by Frame" continues, highlighting the guitar interplay between Fripp and Belew; the former's arpeggios are contrasted with the free-form sonics of the latter. "Matte Kudasai" slows the pace, with Belew's guitar up front and center, though his voice is perhaps an acquired taste. "Indiscipline" unleashes the band's fury, with Levin's Stick bass cementing his unique signature to the group's overall sound. "Thela Hun Ginjeet" (an anagram of "heat in the jungle") intersperses some hilarious field recordings from Belew recounting a street encounter; while "The Sheltering Sky" sees Bruford bringing electronic drumming into his repertoire. Band name aside, the music presents a clean break from the King Crimson of the 70s; yet one equally compelling and one in keeping with the aesthetics of a new decade. Released by EG Records, the album was a moderate success, reaching the Top 40 on both sides of the Atlantic. The band's live set would only feature "Larks' Tongues In Aspic, Part Two" from the Crim back catalog; and less than a year later, a second album, Beat, would appear with a similar modus operandi. Another two years and one album later, however, the experiment would come to an end. King Crimson were no more—well, until they became even more again later in the 90s.