Doremi Fasol Latido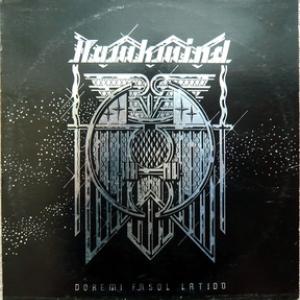 Label:
United Artists Records
Tracklist
A1
Brainstorm
11:33
A2
Space Is Deep
6:20
A3
One Change
0:49
B1
Lord Of Light
6:59
B2
Down Through The Night
3:04
B3
Time We Left This World Today
8:43
B4
The Watcher
4:09
Credits
Producer - Dave Brock
Producer - Del Dettmar
Bass – Lemmy
Compiled By – Nigel Reeve
Drums, Percussion – Simon King
Electronics – Dik Mik
Flute, Saxophone, Vocals – Nik Turner
Synthesizer – Del Dettmar
Vocals – Lemmy (tracks: 7), Robert Calvert (tracks: 8, 9, 11)
Vocals, Guitar – Dave Brock
Strawberry Bricks Entry:
By the end of 1971, Ian "Lemmy" Kilmister (previously in Sam Gopal), drummer Simon King (previously in Opal Butterfly) and poet Robert Calvert had been thoroughly integrated into the Hawkwind fold. The summer of 1972 saw a surprise hit single for the band: "Silver Machine" b/w "Seven by Seven" rode the UK charts all the way to No. 3, providing the band with bona fide success. The song, sung by Lemmy, was culled from the Greasy Truckers' benefit concert at London's Roundhouse. The end of the year saw their next album, the wonderfully titled Doremi Fasol Latido (after the solfège syllables). Alternating between heavy rockers and more acoustic "busker" numbers, it's Hawkwind's most refined production to date. The perennial "Brainstorm" blasts off, pummeling forward over a simple yet effective riff. Over its 11-plus minutes, the band never falters, exploring texture and sonics in warp drive before gently landing on Dave Brock's acoustic "Space Is Deep" and its classic lyric. "Lord of Light" opens the second side, powered by Brock's rhythm guitar and a strong bass line from Lemmy. Another acoustic number, "Down Through the Night" provides the interlude, before the band delivers one of their more interesting numbers, "Time We Left This World Today." Here the ride breaks down, skidding sideways before recovering back to its monster bass riff; Lemmy's "The Watcher" brings things to a quiet close. Musically, Hawkwind were never that adventurous: Rooted in simple folksy structures, most compositions were fueled by a straight-ahead driving rhythm that rarely faltered. But mad saxophone soloing and electronic effects coupled with sci-fi imagery (courtesy of author Michael Moorcock and artist Barney Bubbles) earned them the space rock tag. No one did it better than Hawkwind; in fact, no one even came close. The album was another success for the band, rising to No. 14 on the UK charts.