Ege Bamyasi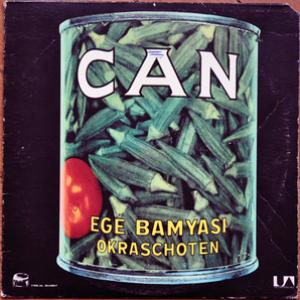 Label:
United Artists Records
Tracklist
A1
Pinch
9:28
A2
Sing Swan Song
4:18
A3
One More Night
5:35
B1
Vitamin C
3:34
B2
Soup
10:25
B3
I'm So Green
3:03
B4
Spoon
3:03
Credits
Art Direction - Ingo Trauer
Art Direction - Richard J. Rudow
Electric Bass, Engineer [Recording] - Holger Czukay
Engineer [Recording, Assistant] - Uli Gerlach
Guitar, Acoustic Guitar, Twelve-string Guitar, Shenai - Michael Karoli
Organ, Electric Piano, Violin, Steel Guitar - Irmin Schmidt
Percussion, Percussion [Flexaton] - Jaki Liebezeit
Producer, Written-By - Can
Vocals - Damo Suzuki
Strawberry Bricks Entry:
In late 1971, Can released a single "Spoon" b/w "Shikako Maru Ten." By the new year, it had risen to No. 6 in the West German charts. Completely infectious, Jaki Liebezeit's drumming is enhanced by a drum machine; but it's the relative "tune" that makes the song a hit. Of course, being the theme song for the TV show Das Messer ("The Knife") helped too! The success afforded the band the opportunity to purchase a cinema between Cologne and Bonn, which they turned into their Inner Space Studios. Can's third studio album Ege Bamyasi saw release at the end of 1972. Turkish for "Aegean okra," it's instantly recognizable from the "can" on the cover. "Pinch" kicks off side one and immediately Liebezeit's drumming grips the listener's ears with a funky groove, perfectly filled with sharp accents. Holger Czukay's bass is even more minimal, but effectively delivers the right amount of punch. "Sing Swan Song" swings and sways with an ethnic hint, courtesy of Michael Karoli's guitar. Can ride the same groove for "One More Night," but it's Damo Suzuki's vocal delivery that makes it sexy. "Vitamin C" gives Irmin Schmidt a chance to shine, while the lengthy "Soup" harks back to the psychedelic messiness of Tago Mago as it goes completely sideways. The brief "I'm So Green" pales compared to "Spoon," but the song was tacked onto the record at the last minute. Never mind, Can delivers one of the most original, powerful, minimal but above all accessible albums that would make up their catalog. It also saw release in France and the UK, and, for the first time, the US. Suzuki would record another album with Can, the excellent Future Days in 1973, but then leave to become a Jehovah's Witness.