Electronic Realizations For Rock Orchestra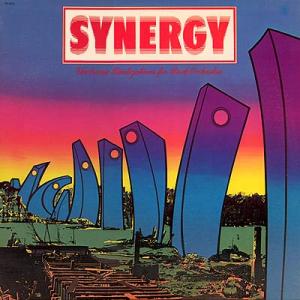 Tracklist
A1
Legacy
10:05
A2
Slaughter On Tenth Avenue
11:46
B1
Synergy
5:26
B2
Relay Breakdown
6:18
B3
Warriors
12:54
Notes:

Written-by [Original Bassline] - Jerry Rutman
Credits
Artwork By [Cover Graphic] - Charles Magistro
Composed By, Performer, Arranged By, Producer, Engineer, Programmed By - Larry Fast
Engineer [Remix] - Bob Clearmountain
Mastered By - Bob Ludwig
Photography [Back Cover] - Larry Fast
Producer - Marty Scott
Written-By - Larry Fast
Written-By - Richard Rodgers
Notes
Sound Generation:
Mini Moog c/w/Oberheim Expander Module/MellotronControl Functions:
Mini Moog Systems/ Oberheim Expander Module/ Oberheim DS-2 Digital Sequencer/ Assorted Custom Control Devices/ Galvanic Skin Response Voltage Controller / ARP-2600
Signal Processing:
Mini Moog/ Oberheim Expander Module/ 360 Systems 20/20 Frequency Shifter/ Eventide Clockworks Instant Phaser/ Eventide Clockworks Digital Delay
Recorded at House of Music, West Orange N.J., January 2-February 3, 1975.
Mixed at Mediasound, New York, N.Y. API Automated Quad (computerized) mixdown facilities, February 11-17,1975.
Mastered at Sterling Sound, New York, N.Y., February 24, 1975.
This album was mixed using the Sansui QS 4-channel quad system.
Cover graphic named "Manchester Bridge II"
Strawberry Bricks Entry:
Synergy was the sobriquet of Larry Fast's one-man synthesizer show. Hailing from New Jersey, Fast would rise to prominence as one of America's premier electronic musicians, largely through a series of albums released on the Passport label. Released in 1975, his debut album, Electronic Realizations For Rock Orchestra, set the stage. Awash with synthetic flourishes and Mellotron a-plenty, "Legacy" unfolds in a familiar way. But the promise of the initial heavy sequence fades into something altogether lighter, much to this listener's chagrin. "Slaughter on Tenth Avenue" continues with an even richer electronic texture, but the spry and protean melodies are closer to light instrumental music than strictly prog rock; the second side continues in the same palatable fashion. Throughout, Fast's compositions are exquisitely conventional, yet still full of dramatic suspense, and constitute one of the early examples of electronic music that would find commercial prominence in the 1980s. Fast mostly used a Mini Moog synthesizer and outboard gear to create the music, and as he would always state, "Nobody played guitar." Certainly, this was a technical feat; and in fact, Fast had a parallel career as an engineer: He worked on early synthesizer and recording technologies, including building synthesizer modules for Rick Wakeman of Yes while he was still a student in the early 70s. In addition to future Windham Hill mainstay Shadowfax and Canada's FM, both Nektar and Peter Gabriel would employ Fast's talents as a musician and/or producer. His next album, Sequencer, was similarly playful; but the darker and more rhythmic 1978 release Cords stands as a career highlight. Fast would release another handful of albums over the next decade, while also finding time to curate the Audion label for Passport Records Group.