Electronique Guerilla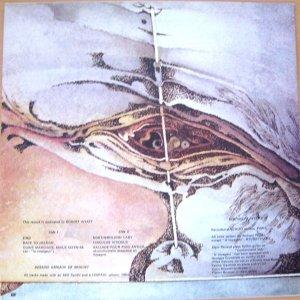 Tracklist
A1
Ouais Marchais Mieux Qu'en 68
4:27
A2
Circulus Vitiosus
8:29
A3
Ballade Pour Puig Antich
2:16
B1
Zind
2:18
B2
Back To Heldon
8:39
B3
Northernland Lady
6:53
Credits
Bass Guitar – Pierrot Roussel (tracks: B1)
Design [Cover] – G. Muguet
Drums – Coco Roussel (tracks: B1)
Guitar – Alain Renaud (tracks: A3)
Piano, Synthesizer [Vcs3] – Patrick Gauthier (tracks: B1)
Producer – Parano's Limited
Synthesizer [Vcs3] – Georges Grumblatt* (tracks: B1)
Vocals [Spoken Words] – Gilles Deleuze (tracks: B1)
Written-By – Richard Pinhas
Notes
Recorded at Schizo studios, Paris, France.
"All tracks made with an AKS Synthi and a LESPAUL gibson , 1954"
"This record is dedicated to Robert Wyatt"
On the cover A3 is marked as Ouais, Marchais, Mieux Qu'en 68 (Ex : Le Voyageur) and B1 as Northernland Lady.
Strawberry Bricks Entry:
The debut album from Heldon introduces French electronic rock pioneer Richard Pinhas and the larger Parisian counter-culture he piloted. Though he left his teaching post at the Sorbonne, Pinhas never left his philosophy behind. His work would always remain left of center, as the title Electronique Guerilla attests; and the spirit of the May 1968 student revolt remained the key to both his musical invention and dedication to his uncompromising spirit—Heldon sound like little before it. Pinhas relies on unpolished improvisation here: "Zind" opens with huge pulses from an AKS synthesizer and nothing else. "Back To Heldon" adds a looping sequence and another of Pinhas's trademarks: the heavily-sustained tone of his Les Paul guitar—an acknowledged influence of Robert Fripp. It's these two instruments, the synthesizer and the heavily-sustained guitar, that dominate Pinhas's music. Under a repetitive guitar line, the more contemplative "Northernland Lady" features several layers of sonic texture; there's not a lot of composition in the motionless piece, though it's full of atmosphere. "Ouais Marchais, Mieux Qu'en 68" is a group effort; Coco Roussel handles drums with brother Pierrot on bass, while philosopher Gilles Deleuze provides the spoken words of Friedrich Nietzsche. The final two tracks offer more synthesizer/guitar explorations; however, there's absolutely nothing cosmic or academic here, just raw extracts of sound from Pinhas's hands. In 1975, Pinhas would release two albums: Allez Teia was a mostly somnambulant record of guitar and Mellotron drones, while the double-album It's Always Rock 'N' Roll, a play on The Rolling Stones' record issued the same year, offered a wider variety of Pinhas and friends' sonic inventions. All were recorded at his Schizo Studios and released on his own Disjuncta/Urus label. The label released many like-minded albums from others in the Parisian counter-culture, as did the Cobra and Pôle labels—and each was as uniquely progressive as it was unique.