Expresso II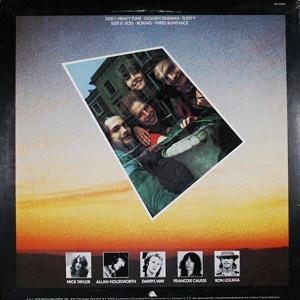 Tracklist
A1
Heavy Tune
6:20
A2
Golden Dilemma
4:50
A3
Sleepy
7:25
B1
Soli
7:33
B2
Boring
6:27
B3
Three Blind Mice
4:49
Credits
Artwork By - Splash Studio
Bass, Guitar - Hansford Rowe
Congas - François Causse
Drums, Glockenspiel, Vibraphone, Xylophone, Timpani, Bells [Tubular] - Pierre Moerlen
Engineer - John Wood
Engineer - Nick Bradford
Executive Producer - Graham Lawson
Guitar - Allan Holdsworth
Guitar - Bon Lozaga
Guitar [Lead] - Mick Taylor
Marimba, Vibraphone - Mireille Bauer
Photography - Sheila Rock
Producer - Gong
Producer - John Wood
Vibraphone, Marimba, Percussion, Bells [Tubular], Glockenspiel, Clave, Xylophone - Benoit Moerlen
Violin - Darryl Way
Notes
Recorded at Pye and Matrix studios.
Mixed at Britannia Row Studio.
Mastered at Trident Studio.
Strawberry Bricks Entry:
Following the completion of the Gazeuse! Session, Gong fractiously fell apart; Pierre Moerlen however found himself in New York, where he made the acquaintance of a young American bassist, Hansford Rowe. Returning to France, he gathered up his brother Benoît, Mireille Bauer and a new talent, François Causse on congas. The band, called Gong-Expresso, played the May 1977 Gong reunion shows at Paris Hippodrome, which led to the okay from Virgin Records for a new record. Expresso II, released in early 1978, was produced-somewhat curiously-by John Wood, best known for his collaboration with folkster Joe Boyd. The chunky riff and stiff backbeat of "Heavy Tune" kick off the record, yielding to a solo from guest guitarist Mick Taylor (Moerlen would perform on his solo album). Guitarist Bon Lozaga then offers a funky rhythm on the ensuing "Golden Dilemma." Foremost however are the percussionists, offering vibes, marimba and congas over Moerlen's ever-solid beat. Allan Holdsworth's signature guitar opens "Sleepy," but Darryl Way also lends his violin. But the second side's "Soli" is the pinnacle. With Holdsworth's thick guitar lines leading the way, the combination of Rowe's rubbery bass, Bauer and Benoît's percussion is jazz-rock at its finest. The band all prove to be not only excellent performers, but adept writers, the compositions shared between the Moerlens, Rowe and Bauer. It's another excellent album from Moerlen that again emphasizes the rock in jazz-rock. The album saw release on Virgin in the UK and Europe, however it would be their last with both the label, and Bauer.