Fairy Tales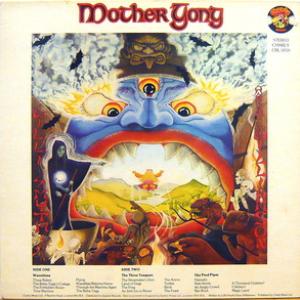 Label:
Charly Records Ltd.
Tracklist
A1
Three Riders
A2
The Baba-Yaga's Cottage
A3
The Forbidden Room
A4
Time Machine
A5
Flying
A6
Wassilissa Returns Home
A7
Through The Machine Again
A8
The Baba-Yaga
B1
The Shoemaker's Son
B2
Land Of The Dogs
B3
The Frog
B4
An Irish Inn In Rome
B5
The Arena
B6
Turtles
B7
Birds
B8
The Feast
B9
Hamelin
B10
Rats Amok
B11
An Angry Crowd
B12
Rat-Rock
B13
A Thousand Guilders?
B14
Children!
B15
Magic Land
Credits
Bagpipes [Uilleann] - Ronnie Wathen
Bass - Trevor Darks
Composed By - Harry Williamson
Engineer [Inspirational] - Dave Anderson
Flute [Muzma], Oboe - Nik Turner
Guitar - Eduardo Niebla
Guitar - Harry Williamson
Harp - Marianne Oberasher
Keyboards - Mo Vicarage
Percussion, Drums - Ermano Ghisio Erba
Reeds, Woodwind - Bloomdido Bad de Grass
Vocals - Gilli Smyth
Written-By - Gilli Smyth
Written-By - Harry Williamson
Notes
Charly Music Ltd., 9 Beadon Road, London W6 0EA
Distributed by Spartan Records.
Sleeve printed in England by Gothic Press Ltd., London SE9 2EQ
Published by Charly Music Ltd.
Strawberry Bricks Entry:
Gilli Smyth, aka Shakti Yoni, first met Daevid Allen in 1964 by which time she had already earned her degrees from King's College London, taught in Paris and had her first child. When Allen was barred from England in 1967 for visa irregularities, the pair returned to Paris and founded Gong. Following their stint with Planet Gong in the mid-70s, Smyth's first album, Mother, was assembled (mostly) with various Gong recordings, some dating back to the early 70s. With her non-singing space whisper, Allen's tape loops and loose backing music to her half-sung spoken word musings on all things motherhood (she had recently given birth to two sons with Allen), the blueprint for her Mother Gong works was set. In 1979, with her relationship with Allen behind her, she partnered with Harry Williamson, and lived in Devon until 1982. Williamson had previously worked with ex-Genesis guitarist Anthony Phillips on a soundtrack to his father's renowned Tarka The Otter (also released as Battle Of The Birds: A Celtic Tale, with Smyth narrating), and cut a single "Nuclear Waste" b/w "Digital Love" as The Radio Actors: Sting, Mike Howlett, Steve Hillage, Steve Broughton and Nik Turner. Recorded at Dave Anderson's Foel Studio, Fairy Tales stands as the first Mother Gong album. The album sets three classic fairy tales—Wassilissa, The Three Tongues (Languages) and The Pied Piper, all recited by Smyth—to Williamson's musical backing with a host of guests, Gong-related and otherwise. Keyboardist Mo Vicarage and drummer Dino Ferari (from Nik Turner's Inner City Unit), and Automatic Fine Tuning's bassist Trevor Darks make up the core band, with guitarist Eduardo Niebla on guitar (from the Spanish band Atila). Mother Gong toured extensively, performing at Glastonbury festival in both 1979 and 1981. Smyth and Williamson would next record the Robot Women trilogy of albums, based on Ira Levin's Stepford Wives and recorded with Guy Evans, Didier Malherbe, Yan Emeric Vagh and a revolving cast of other musicians. In 1982, Smyth and Williamson would immigrate to Australia, continuing Mother Gong down under, and eventually recording again with Allen.