A Farewell To Kings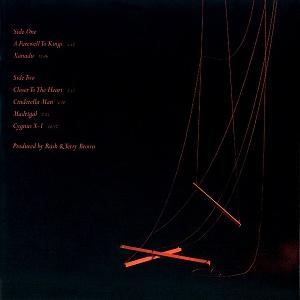 Tracklist
A1
A Farewell To Kings
5:53
A2
Xanadu
11:06
B1
Closer To The Heart
2:52
Notes:

Lyrics By - Peter Talbot

B2
Cinderella Man
4:20
B3
Madrigal
2:35
B4
Cygnus X-1
10:27
Credits
Artwork By [Art Direction And Graphics] - Hugh Syme
Artwork By [Design Assistance] - Bob King
Bass Guitar, Guitar [Twelve String], Synthesizer [Mini Moog, Bass Pedal], Vocals - Geddy Lee
Drums, Bells [Orchestra], Bells [Tubular], Temple Block, Cowbell, Wind Chimes, Bells [Bell Tree], Vibraslap, Triangle - Neil Peart
Electric Guitar [Six And Twelve String], Acoustic Guitar [Six And Twelve String], Guitar [Classical], Synthesizer [Bass Pedal] - Alex Lifeson
Engineer [Mix Assistant] - Declan O'Doherty
Engineer [Mix Assistant] - Ken Thomas
Engineer [Mix] - Terry Brown
Engineer [Recording] - Pat Moran
Engineer [Recording] - Terry Brown
Executive Producer - Moon Records
Lyrics By - Geddy Lee
Lyrics By - Neil Peart
Mastered By - George Graves
Music By - Alex Lifeson
Music By - Geddy Lee
Music By - Neil Peart
Photography [Cover] - Yosh Inouye
Photography [Liner] - Fin Costello
Photography [Sleeve] - Roger Stowell
Producer - Rush
Producer - Terry Brown
Notes
"Big City" Mercury labels.
Recorded at Rockfield Studios, Wales, June 1977.
Mixed at Advision Studios, London.
Mastered at JAMF, Toronto.
All music published by CORE Music Publishing (ASCAP) CAPAC, Canada.
All lyrics © 1977, Core Music Publishing (ASCAP) CAPAC, Canada.
℗ © 1977 Phonogram, Inc., a Polygram Company.
Distributed by Phonodisc, Inc.
Printed in U.S.A.
Strawberry Bricks Entry:
With their records now charting in the US and UK, what must have been a confident Rush flew to Wales and Rockfield Studios to record A Farewell To Kings, their fifth studio album. It represents a substantial leap in their development. The title track opens, and it's a typical Rush construct: Propelled by Neil Peart's masterful drumming, Alex Lifeson and Geddy Lee hammer away until Lifeson's lead guitar takes full-flight. The epically constructed "Xanadu" takes the concept of 2112 one step further; Lee also doubles on keyboards, providing a new augmentation to the band's sound. Clocking in at a near-perfect two minutes and 55 seconds, the straightforward "Closer to the Heart" earned considerable airplay in the US, and even charted as a single. "Cinderella Man" comes from the same mold, while "Madrigal" is uncharacteristically serene. Still, by no means had Rush become a pushover: "Cygnus X-1" is the prog rock opus, complete with multiple sections, heavy metal plodding and a "to be continued" byline. Again, it's not that far off from their previous works; in that respect, it's a splendid illustration of the band's musical progression to date. If there is a formula to Rush's success, it's radio-friendliness; their virtuosity always manages to remain commercial even as it progressed. Rush would become the new face of prog rock; and somehow, this more than fit into the changing commercial landscape of rock music. In fact, while most prog rock bands dropped their "progressiveness" as they moved into the 80s, Rush relished in it. A Farewell To Kings was their first to chart simultaneously on both sides of the Atlantic, straddling each shore in the Top 30.