Fingerprince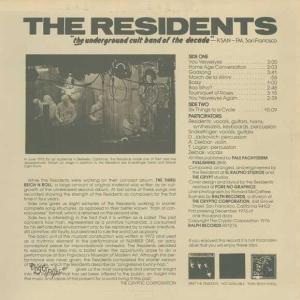 Tracklist
A1
You Yesyesyes
3:00
A2
Home Age Conversation
2:03
A3
Godsong
3:41
A4
March De La Winni
0:58
A5
Bossy
1:00
A6
Boo Who ?
2:48
A7
Tourniquet Of Roses
3:15
A8
You Yesyesyes Again
2:38
B
Six Things To A Cycle
15:09
Credits
Composed By, Arranged By, Engineer - Residents
Design [Cover], Layout - Residents
Percussion - Don Jackovich
Percussion - T. Logan
Photography By [Liner] - Richard McCaffree
Violin - A. Dekbar
Vocals - Zeibak
Vocals, Guitar - Snakefinger
Vocals, Guitar, Horns, Synthesizer, Keyboards, Percussion - Residents
Notes
All titles published by Pale Pachyderm Publishing (BMI)
Engineered at El Ralpho Studios and The Crypt studios
Cover design and layout by the Residents realized at Pore No Graphics
1st pressing: 1000 copies - dark brown cover, "First Pressing" written on back
2nd pressing: Lighter brown cover
3rd pressing: Repackaged in color (front and back)
4th pressing: First 500 copies on purple vinyl
The first pressing only has has the run out groove etching 'RR1276', while the second edition also has 'Re77' etched into the run-out.
Original copies also came with a letter-sized 'application form' for the Ralph Records 'Weirdo' mailing list. It is full of nonsense. The other side is blank. This leaves plenty of room for the potential subscriber's own nonsense.