Forever Blowing Bubbles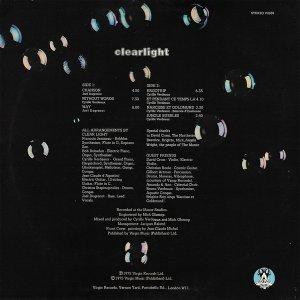 Tracklist
A1
Chanson
4:44
A2
Without Words
7:41
A3
Way
8:16
B1
Ergotrip
6:24
B2
Et Pendant Ce Temps La
4:43
B3
Narcisse Et Goldmund
2:39
Notes:

Vocals - Brigitte Roy

B4
Jungle Bubbles
2:45
Credits
Artwork By [Front Cover Painting] - Jean-Claude Michel
Bass, Lead Vocals - Joël Dugrenot
Drums, Congas - Chris Stassinopoulos
Drums, Percussion, Maracas, Vibraphone - Gilbert Artman
Electric Guitar [12-string], Flute [In C] - Jean-Claude D'Agostini
Electric Piano, Organ, Synthesizer - Bob Boisadan
Guitar - Christian Boulé
Producer, Engineer, Remix - Mick Glossop
Producer, Remix, Keyboards, Grand Piano, Harpsichord, Synthesizer, Organ, Mellotron, Glockenspiel, Congas, Gong - Cyrille Verdeaux
Synthesizer [Bubbles], Flute [In G], Saxophone [Soprano] - François Jeanneau
Synthesizer, Congas [Aquatic] - Bruno Verdeaux
Violin, Violin [Electric] - David Cross
Notes
(C) 1975 Virgin Records Ltd.
Strawberry Bricks Entry:
Cyrille Verdeaux's second album for Virgin Records was again recorded at The Manor Studio in the UK, with Mick Glossop producing. Clearlight (the band) now featured six members, including ex-Zao bassist Joël Dugrenot, who contributed two songs, and a host of guest friends. The opening track "Chanson" is a lush affair, its under-mixed vocals provoking an exceptional effect. And if you thought David Cross (from King Crimson) couldn't play violin, listen up to the end of the track. Christian Boulé's cosmic guitar on "Without Words" is classic, and should please any Gong fan. However, it's Verdeaux's rich polyphony of sounds that give the arrangements their unique feel, somewhere between the density of Magma and the anarchy of Gong; just check out the excellent "Way." The slightly more conventional "Ergotrip" segues into the keyboard-driven "Et Pendant Ce Temps-Là" and dominates the second side—the band is in exceptional form here, weaving a dense arrangement around the bold compositions. Forever Blowing Bubbles would be the last on Virgin Records; after the label put Clearlight on tour with Gong, Verdeaux refused to move to the UK, thus ending the deal. He would record two additional albums under the Clearlight banner, each again featuring a bevy of musicians. Les Contes du Singe Fou ("Tales of the Crazy Monkey") was released in 1977 on the Isadora label and featured Ian Bellamy on vocals (in English). The last Clearlight album, Visions, was released on Polydor in 1978, and featured two Didiers, Malherbe and Lockwood. In the early 80s, after the tragic death of his son, Verdeaux would relocate to the US and embark on a solo career.