Frumpy 2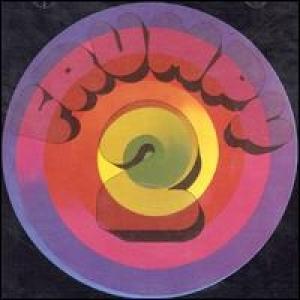 Tracklist
A1
Good Winds
10:02
A2
How The Gipsy Was Born
10:05
B1
Take Care Of Illusion
7:30
B2
Duty
12:09
Credits
Performer – Carsten*, Inga*, Jean-Jacques*, Karl-Heinz*, Rainer*
Producer – Rainer Goltermann
Written-By – I. Rumpf (A1), I. Rumpf + J. J. Kravetz* (tracks: A2 to B2)
Notes
This record also exists in black vinyl and in blue multicoloured vinyl.
Cover is a 6-part fold-out panel consisting of round pieces, contained in a plastic bag.
Strawberry Bricks Entry:
Founded by Irishman John O'Brien-Docker, Hamburg's The City Preachers was folk-rock band that featured (among others) vocalists Inga Rumpf and Dagmar Krause, as well as drummer Udo Lindenberg. They split in 1968, with Rumpf, Krause and Lindenberg teaming up with French keyboardist Jean-Jacques Kravetz and bassist Karl-Heinz Schott. By 1970, however, Krause left to eventually join Slapp Happy (but not before recording the split-album I.D. Company with Rumpf), while Lindenberg went off to Klaus Doldinger's Passport. Carsten Bohn was brought in on drums; and reconstituted as Frumpy (a play on Inga's name), the band switched their musical direction to the newly awakening progressive. Signed to Philips, their debut album All Will Be Changed was recorded in August 1970, and they promptly hit the road with a 50-date German tour supporting Spooky Tooth. The blueprint was there: They had bluesy rock with classical digressions, even separated out as individual tracks; and though songs like "Floating" and "Indian Rope Man" showcase the band's talents, nothing, absolutely nothing, could prepare the world for the sonic onslaught that was Frumpy 2. "Good Winds" opens like a punch in the face; Kravetz's roaring organ tone just perfect, Inga's voice belting out a growl unparalleled by any woman in rock. "How the Gipsy Was Born" (sic) and "Take Care of Illusion" continue the pace, with the rhythm section of Bohn and Schott pounding furiously and with aplomb. The addition of guitarist Rainer Baumann enriches the overall sound, but his role is mainly playing leads. It's a magical record: one of the heaviest and most relentless of the era. But the intensity wouldn't last; after a third album, By The Way, released in early 1972, Frumpy split. Rumpf, Kravetz and Schott recruited new members-drummer Curt Cress (ex-Orange Peel) and guitarist Frank Diez (ex-Emergency)-and formed the more commercially-orientated Atlantis.