The Geese & The Ghost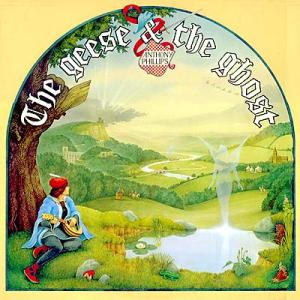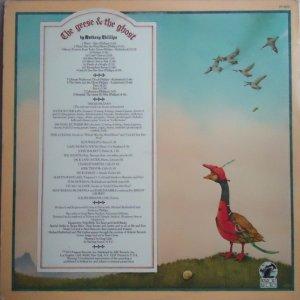 Tracklist
A1
Wind - Tales
1:02
A2
Which Way The Wind Blows
5:51
A3.1
Fanfare
0:56
A3.2
Lutes' Chorus
2:00
A3.3
Misty Battlements
1:15
A3.4
Henry Goes To War
3:36
A3.5
Death Of A Knight
2:33
A3.6
Triumphant Return
1:46
A4
God If I Saw Her Now
4:09
B5
Chinese Mushroom Cloud
0:46
B6.1
Part 1
8:01
B6.2
Part 2
7:39
B7
Collections
3:07
B8
Sleepfall: The Geese Fly West
4:34
Credits
Acoustic Guitar [12-string, 6-string, Classical Guitar], Electric Guitar [6-string, 12-string], Bass [Basses], Dulcimer, Bouzouki [Bazouki], Synthesizer [Synthesizers], Mellotron, Harmonium, Piano, Organ, Celesta [Celeste], Piano [Pin Piano], Drums, Glockenspiel, Timbales, Bells, Chimes, Gong - Anthony Phillips
Acoustic Guitar [12-string, 6-string, Classical Guitars], Electric Guitar [12-string, 6-string], Bass [Basses], Organ, Drums, Timbales, Glockenspiel, Cymbal [Cymbals], Bells - Mike Rutherford
Cello - Charlie Martin
Cello - Kirk Trevor
Conductor [Send Barns Orchestra And Barge Rabble Conducted By] - Jeremy Gilbert
Design [Cover Design], Artwork By - Peter Cross
Engineer - Anthony Phillips
Engineer - Anton Matthews
Engineer - Mike Rutherford
Engineer - Simon Heyworth
Flute - John Hackett
Flute, Flute [Baroque Flute], Recorder, Piccolo Flute - Wil Sleath
Flute, Lyricon - Jack Lancaster
Heckelphone, Other [Bulk Eraser] - Tom Newman
Mastered By - Greg Calbi
Oboe - Rob Phillips
Oboe, Cor Anglais - Lazo Momulovich
Orchestra - Send Barns Orchestra
Performer - Barge Rabble
Producer - Anthony Phillips
Producer - Mike Rutherford
Producer - Simon Heyworth
Soloist - Ralph Bernascone
Technician [Equipment] - Geoff Banks
Technician [Equipment] - Nick Blyth
Technician [Equipment] - Tex Read
Timpani - Martin Westlake
Violin - Nick Hayley + Friend
Vocals - Anthony Phillips
Vocals - Phil Collins
Vocals - Viv McCauliffe
Written-By - Anthony Phillips
Written-By - Mike Rutherford
Notes
Recorded at Send Barns Studios & Argonaut Galleries.
Remixed and completed at Trident and Olympic Studios.
Mastered at Sterling Sound.
All songs published by Run It Music, Inc. (BMI)
The track numbering is from 1 to 8.
℗ © 1977 Passport Records, Inc.
Marketed by ABC Records, Inc.
Printed in U.S.A.
Strawberry Bricks Entry:
Anthony Phillips first appeared in the timeline as the original guitarist for Genesis. Unable to make the commitment to life in a rock band, he left in 1970 and returned to formal music studies at Guildhall School of Music & Drama. His friendship with Mike Rutherford never wavered-in fact, with Phil Collins, they recorded the unreleased single "Silver Song" b/w "Only Your Love" in 1973 for Charisma Records, during a lull in Genesis' activity. In 1974, he and Rutherford began a collaboration on what would later become his debut solo album; but the latter's commitments to Genesis would prolong the process by years. True to form, Phillips never left his musical connection to Genesis too far behind. Released in 1977, The Geese & The Ghost is a strong testament to that association. The gentle 12-string number "Which Way the Wind Blows" wouldn't sound out of place on a current Genesis album, or Trespass, for that matter; Collins even provides most of the vocals here. But it's the baroque styling of "Henry: Portraits from Tudor Times" that both dominates the album and reveals Phillips's art. With guitars fluttering away, he and Rutherford paint gentle, acoustic landscapes, not unlike the Peter Cross-penned art that also graces the album's cover. The arrangements are lyrical and exquisite, with flute, oboe and cello all adding color. Phillips takes a vocal (and piano) break on the terribly romantic "Collections," while only the second half of the title track provides any electricity to this otherwise pastoral album. Phillips would stick to the formula implemented here with his "library" series of instrumental releases, all bearing the cheeky subtitle Private Parts and Pieces. Though anachronistic with contemporary musical trends, the album was a genuine success, reputedly selling tens of thousands of copies. It also earned Phillips a contract with Arista, and a shot at a few albums that would be larger in both scope and budget.