Give And Take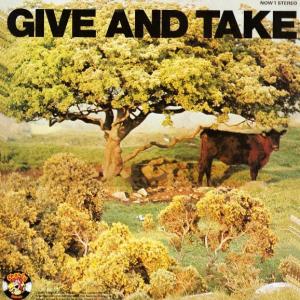 Label:
Charly Records Ltd.
Tracklist
A1
What You See Is What You Are
5:23
A2
Nearer Now
5:42
A3
Grate Fire Of London
7:33
B1
This Time
4:46
B2
Seventies Youth
5:00
B3
Improvisation
11:04
Credits
Bass, Vocals - Keith Bailey
Chorus [Choir Of Angels] - Anni Wombat
Chorus [Choir Of Angels] - Suze Da Blooze
Drums, Guitar, Vocals - Kifkif Le Batteur
Guitar, Vocals - Steffe Sharpstrings
Keyboards, Synthesizer - Gavin Da Blitz
Producer - Dave Anderson
Producer, Written-By - Here & Now
Strawberry Bricks Entry:
After their amicable separation from Daevid Allen and Gilli Smyth in March, Here & Now spent the balance of 1978 touring, finding time along the way to record their debut album at Foel Studio in Wales, with Dave Anderson producing. Though certainly influenced by Gong, Here & Now was an original outfit, combining the best of space rock with a punk attitude. Their debut album for Charly Records, Give And Take, is proof. "What You See Is What You Are" leads off: melodic and free-spirited, it's bolted onto a tight, solid rhythm before launching off into deep space. With its Bowie-esque vocal, the straight-up tune "Nearer Now" returns to earth. "Grate Fire of London" floats over the chorus of Anni Wombat and Suze Da Blooz's Choir of Angels, percolating synths and glissando guitar without ever really finding traction. "This Time" and "Seventies Youth" offer a great narrative of the band's lifestyle; each tuneful track is expertly written, and perhaps with a nod to Hawkwind, another band with whom their history would intertwine. "Improvisation" closes, offering a healthy dose of space rock made complete by Steffe Sharpstrings's Steve Hillage-inspired guitar. It's a dynamic record, and a rare chance to hear the band with studio precision sound. But by the end of the year, Kif Kif and Suze Da Blooz, along with their bus, had split. Preceded by a few singles for Charly, the live album All Over The Show appeared in late 1979, now with drummer Rob Bougie and additional guitarist Bernie Elliot. Here & Now kept gigging, changing members and continuing to develop their own unique style of music, but it would be years before another record would be released.