Glory Of The Inner Force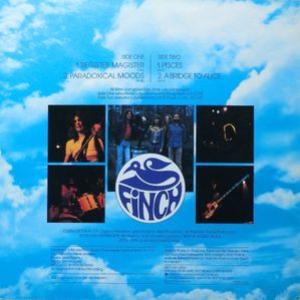 Tracklist
A1
Register Magister
9:18
A2
Paradoxical Moods
10:30
B1
Pisces
9:30
B2
A Bridge To Alice
13:12
Credits
Artwork By - Beer Klaasse
Bass, Bass [Pedal Bass] - Peter Vink
Composed By - Joop van Nimwegen
Drums - Beer Klaasse
Engineer - Pierre Geoffroy Chateau
Guitar, Acoustic Guitar - Joop van Nimwegen
Organ, Mellotron, Electric Piano, Synthesizer, Piano [Grand Piano], Piano [Honky Tonk Piano] - Cleem Determeijer
Other [Management] - Frank van der Meijden
Photography - Louis Tigges
Producer - Roy Beltman
Notes
Recorded at the Intertone Studios, Heemstede, Holland, February 1975.
Printed in USA.
(P) (C) 1975 EMI- Holland B.V.
Strawberry Bricks Entry:
Bassist Peter Vink and drummer Beer (what a great first name!) Klaasse, both previously in one of the Netherlands' original R&B bands, Q65, founded Finch. After a series of personnel changes, the duo recruited guitarist (and composer) Joop van Nimwegen and keyboardist Cleem Determeijer. The band then inked a deal with EMI and recorded their first album, Glory Of The Inner Force. "Register Magister" introduces the Finch sound. Immediately identifiable, the band is both effusive and relentless, and somewhere in between the grandiosity of Yes and the complication of the then-current fusion. The themes are melodic yet, above all, Finch never fails to rock out. "Paradoxical Moods" showcases the virtuoso talents of both Determeijer on organ and Nimwegen on guitar. "Pisces" opens the second side to a considerably slower pace, and reveals some influence from (you guessed it) Focus. The band gets heavy again on the closing "A Bridge to Alice;" but halfway through, an acoustic guitar takes over. As Dag Erik Asbjørnsen suggested in his Scented Gardens of the Mind guide, Finch's music "liv[ed] up to your best or worst expectations of this genre." I must agree. The album saw a US release on Atco Records and went on to sell an impressive 20,000 copies worldwide. Subsequently, Finch recorded two further albums: Beyond Expression in 1976, which earned a Radio Veronica album of the week honor, and their final record (with new members, keyboardist Ad Wammes and drummer Hans Bosboom), Galleons Of Passion, the following year on Ariola imprint Bubble. Both were credible, if analogous, efforts.