Go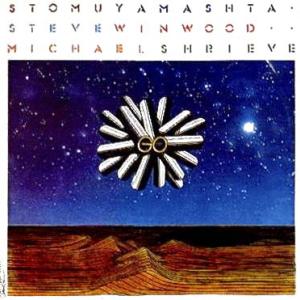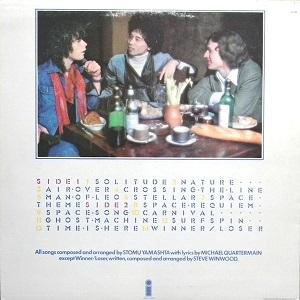 Artist:
Stomu Yamash'ta / Steve Winwood / Michael Shrieve
Tracklist
A1
Solitude
2:57
A2
Nature
2:32
A3
Air Over
2:32
A4
Crossing The Line
4:46
A5
Man Of Leo
2:02
A6
Stellar
2:53
A7
Space Theme
3:12
B1
Space Requiem
3:20
B2
Space Song
2:00
B3
Carnival
2:46
B4
Ghost Machine
2:06
B5
Surfspin
2:25
B6
Time Is Here
2:46
B7
Winner/Loser
4:10
Notes:

Written-By, Composed By, Arranged By - Steve Winwood
Credits
Composed By, Arranged By - Stomu Yamash'ta
Lyrics By - Michael Quartermain
Producer - Dennis McKay
Producer - Paul Buckmaster
Producer - Stomu Yamash'ta
Notes
Some copies included a 7"x7" full color 8 page booklet with credits and lyrics.
Sleeve reads their full name.
Label just Yamashta / Winwood / Shrieve
Spine only reads Stomu Yamashta - Go
Strawberry Bricks Entry:
After wrapping up his East Wind fusion project, Stomu Yamash'ta next project would be the apex of his career. In 1976, he assembled a superstar lineup that included Steve Winwood, Klaus Schulze, Rosko Gee, Al Di Meola, Michael Shrieve and Pat Thrall (the latter from Automatic Man), and recorded Go for Island Records, with Dennis MacKay producing. The opening track's lush strings unfold to Winwood's ever-soulful voice on "Crossing the Line." It's certainly a prototype of the kind of music that would yield hit singles for the singer in the 80s. "Man of Leo" then gets funky, setting up a guitar solo from Di Meola, before bowing to the juxtaposing synthesizers on "Space Theme." The second side rises from the introductory electronics before erupting into "Carnival" and "Ghost Machine." Winwood's "Winner/Loser" closes—again, another potential single. Altogether, it was a forward-thinking attempt, blending the widest varieties of musical styles. But somehow it failed to impress, only rising to No. 60 on the US charts. A live album Go Live From Paris, recorded in June, was released the same year; it was an expanded version of the band's debut with each bandmate flexing his improvisational skills. The funky white soul of Go Too then followed in 1977, with ex-Bronco Jess Roden replacing Winwood. The album saw the addition of the Martyn Ford Orchestra and several female vocalists; and, curiously, featured Yamash'ta on Korg, Schulze on Moog and Peter Robinson on ARP, presenting a "trifecta" of synthesizers! However, that was it for Yamash'ta: Retiring from music, he returned to Japan to live in a Buddhist temple. He eventually resurfaced, releasing several new agey albums and soundtracks in the early to mid-80s.