Godbluff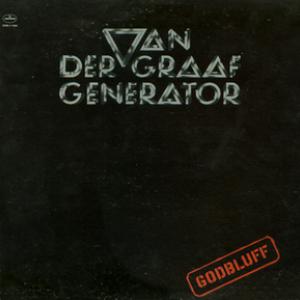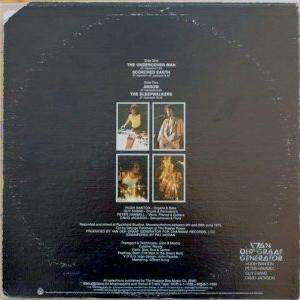 Artist:
Van Der Graaf Generator
Tracklist
A1
The Undercover Man
7:24
A2
Scorched Earth
9:45
B1
Arrow
9:45
B2
The Sleepwalkers
10:29
Credits
Drums, Percussion - Guy Evans
Engineer - Pat Moran
Mastered By - George Peckham
Organ, Bass - Hugh Banton
Producer - Van Der Graaf Generator
Saxophone, Flute - David Jackson
Vocals, Voice, Piano, Guitar - Peter Hammill
Notes
Recorded and mixed at Rockfield Studios, Monmouthshire, between 9th and 29th June 1975.
Comes with one-sided paper lyric insert, printed white on black. Tracklist and credits printed on back sleeve above & below the photos.
Strawberry Bricks Entry:
In late 1974, after the recording of Peter Hammill's Nadir's Big Chance album, the four former members of Van der Graaf Generator agreed to reform the band again. Hammill spent the next six months writing most of the material that would end up on their next two albums. Thus reconstituted, Hammill, along with keyboardist Hugh Banton, saxophone and flautist David Jackson and drummer Guy Evans set out to France in May to "road test" their new material. They entered Rockfield Studios in June and recorded Godbluff, plus two tracks that would appear on their next album. From the opening bars of "The Undercover Man," the new aspects of VdGG are immediate; the music is more open and uniform, and the band sound re-energized and (more or less) modern. Whether VdGG Mark II could have made it into the "big league" was always debatable; their idiosyncrasies are perhaps too profound. But here, VdGG's purpose is clear: performance. The chaos has found control, and the band's execution is impeccable. "The Undercover Man" gently fades into the epic "Scorched Earth." Driving and foreboding as its title suggests, it's as heavy a song as one could ask for. Hammill's lyrical intensity is matched only by his vocal delivery, and he sounds as assured as ever. Evans's tempo is quick and controlled throughout, while Jackson's brass arrangements are a perfect foil to Banton's organ. "Arrow" finds Banton playing bass opposite Hammill on electric piano. After a loose start, Hammill pulls things forward, revealing one of the band's most enduring songs. "The Sleepwalkers" digresses into a circus-like cha-cha with nary a blink, and then erupts with a quick double-kick from Evans's bass drum. The album remains the band's most consistent record. VdGG recorded a John Peel Session shortly following the album's release, and then went on tour for the balance of the year.