Good Morning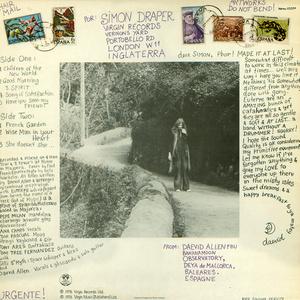 Artist:
Daevid Allen & Euterpe
Tracklist
A1
Children Of The New World
3:40
A2
Good Morning
5:10
A3
Spirit
4:55
A4
Song Of Satisfaction
2:00
A5
Have You Seen My Friend?
3:32
B1
French Garden
3:19
B2
Wise Man In Your Heart
11:36
Notes:

Bass [Featuring] - Mike Howlett
Percussion [Featuring] - Pierre Moerlen

B3
She Doesn't She...
2:30
Credits
Arranged By - Euterpe
Artwork By [Cover] - Fred Frontispiece
Double Bass - Toni Ares
Guitar - Toni Fernandez
Guitar [Glissando, Solo], Vocals, Arranged By - Daevid Allen
Mandolin, Acoustic Guitar, Charango, Glockenspiel - Pepe Milan
Photography - Belle Roachclip
Synthesizer [Moog], Keyboards [Strings], Guitar - Tony Pascual
Vocals - Ana Camps
Vocals [Spacewhisper] - Gilli Smyth
Written-By - Daevid Allen
Written-By - Mike Howlett
Written-By - Pierre Moerlen
Notes
Recorded & mixed on 4 track Teac & 2 revox's.
℗ 1976 Virgin Records Ltd.
© 1976 Virgin Music (Publishers) Ltd.
cat# on spine and rear cover: V2054
Strawberry Bricks Entry:
After leaving Gong in 1975, Daevid Allen, with Gilli Smyth and their children, moved into semi-retirement in Majorca-only to emerge a year or so later with the excellent Good Morning album for Virgin Records. Recorded with the Catalan group Euterpe, the record is primarily an acoustic affair, showcasing Allen's idiosyncratic songwriting. The band, featuring the acoustic guitars of Pepe Milan, the various keyboards of Toni Pascual and Ana Camps's high-soaring backing vocals, offers a gentle, Spanish-tinged and mostly acoustic backing to Allen's tunes. Compared to Gong, his lyrics are very straight-forward and down to earth; but equally as spiritual. Recorded on a couple of two-track Revox tape machines, it's mostly a lo-fi venture. The sleeper track is the Gong-like "Wise Man in Your Heart," recorded with Pierre Moerlen and Mike Howlett. Fueled by Moerlen's percussive riff, it has a massive groove, coated with Allen's patented glissando guitar. In 1977, Allen next released the similar Now Is The Happiest Time Of Your Life, this time for the Tapioca label in France, and Charly/Affinity in the UK. Much like his previous album, it again featured Milan, along with guests Sam Gopal and Victor Peraino, and the beautifully lamenting track "Poet for Sale." He then returned to England with Smyth in May 1977 and formed Planet Gong with the Here and Now band. Back in Deya, he helped assemble Smyth's first solo album, 1978's Mother. Allen then recorded a third album (with all songwriting attributed to Smyth), 1979's N'existe Pas, with Milan, Chris Cutler and George Bishop. He was at the end of his relationship with Smyth, and accordingly, it's a different record, best exemplified in the dark psychedelia of "Non God Will Not Go On." A pretext to his next set of albums, Allen would next head to New York City alone.