Grave New World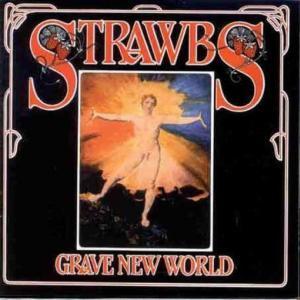 Tracklist
A1
Benedicus
A2
Hey, Little Man...Thursday's Child
A3
Queen Of Dreams
A4
Heavy Disguise
A5
New World
A6
Hey, Little Man...Wednesday's Child
B1
The Flower And The Young Man
B2
Tomorrow
B3
On Growing Older
B4
Ah Me, Ah My
B5
Is It Today, Lord?
B6
The Journey's End
Credits
Engineer [Assistant] – Martin Levan
Engineer [Island Studios] – Frank Owen
Engineer [Landsdowne Studios] – John Mackswith
Engineer [Morgan Studios] – Tom Allom
Illustration [Inner Sleeve], Design [Booklet] – Paper Tiger (7)
Mastered By – △G*
Painting [Front Cover] – William Blake
Producer – Blue Weaver, David Cousins*, John Ford (2), Richard Hudson, Tony Hooper
Notes
Includes lyrics book.
Gatefold sleeve.
Strawberry Bricks Entry:
The Strawberry Hill Boys were a bluegrass trio founded by Dave Cousins, Tony Hooper and Ron Chesterman in 1967. Sandy Denny briefly passed through the band, recording an unreleased album (1973's All Our Own Work) before joining Fairport Convention. In 1969 the band shortened their name and landed a recording contract with A&M. The Strawbs recorded two early albums with production heavyweights Gus Dudgeon and Tony Visconti, respectively. In 1970, Chesterman left, and Cousins and Hooper added the rhythm section of John Ford and Richard Hudson. Session-keyboard wiz Rick Wakeman, recently extricated from the Royal Academy of Music, was next to join. His debut, Just A Collection Of Antiques And Curios, was recorded live at London's Queen Elizabeth Hall, though his role on it was really just that of a soloist. Producer Visconti then urged the electric side of Cousins's songwriting and the resulting From The Witchwood, though still reflecting the band's folk roots, again put the band in the UK Top 40. By the time of Grave New World, Blue Weaver had replaced Wakeman. More importantly though, Cousins's songwriting had now gone progressive; it's best demonstrated here on "Tomorrow" and "New World." The album ranges from the acoustic of "On Growing Older" to the more eclectic rock of "Queen of Dreams." Cousins is a unique vocalist, his raspy voice not unlike a Peter Gabriel or Roger Chapman. The album became the band's best-selling to date, reaching No. 11 in the UK. However, boosted by the single "Part of the Union" b/w "Tomorrow" at year's end, Strawbs' next album, Bursting At The Seams, proved to be their commercial peak.