Hölderlins Traum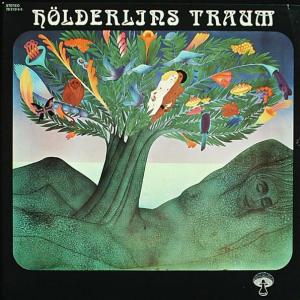 Tracklist
A1
Waren Wir
4:53
A2
"Peter"
2:52
A3
Strohhalm
2:20
Notes:

Sitar - Peter Bursch
Tabla - Mike Hellbach

A4
Requiem Für Einen Wicht
6:32
B1
Erwachen
4:20
Notes:

Recorder - Walter Westrupp

B2
Wetterbericht
6:34
B3
Traum
7:20
Credits
Artwork By - Helmut Friz
Bass Guitar, Acoustic Guitar, Vocals - Peter Käseberg
Cello, Flute [Transverse], Acoustic Guitar, Piano, Organ, Mellotron - Joachim von Grumbkow
Drums, Percussion - Michael Bruchmann
Engineer [Sound] - Dieter Dierks
Guitar - Christian von Grumbkow
Lyrics By, Music By - Christian von Grumbkow
Photography - Victor
Producer - Rolf-Ulrich Kaiser
Violin, Viola, Piano, Flute - Christoph Noppeney
Vocals - Nanny de Ruig
Notes
Recorded January 1972 at Tonstudio Dierks in Stommeln.
Comes in laminated gatefoldcover.
Strawberry Bricks Entry:
Formed in 1970, Hoelderlin initially occupied a unique space in German rock music, combining the influences of British folk with musical romanticism—obviously, a nod to their namesake, the 19th century German poet Friedrich Hölderlin. Formed in Wuppertal, the core of the band included the von Grumbkow brothers, Christian and Joachim, and Christian's wife, Nanny de Ruig, on vocals. Longtime members Christoph "Nops" Noppeney on viola and Michael Bruchmann on drums also joined at this point; and story has it that after just a few gigs (and at the behest of German folkies Witthüser & Westrupp), svengali Rolf-Ulrich Kaiser offered the band a chance to record an album. Their debut, Hölderlins Traum, was released on the Pilz label. Primarily an acoustic album in a folk tradition, it is an evocatively beautiful record, featuring the German language vocals of de Ruig. "Waren Wir" opens gently, but the Mellotron-led section under the quick beat highlights the electricity the band could generate. The following "Peter" is more conventional, yet the baroque melody of "Erwachen" adds a certain formality and classicism to the mix. Even over a short six minutes "Requiem fur Einen Wicht" showcases the band's extensive composition skills, while the mostly acoustic "Wetterbericht" again features the melancholic beauty of de Ruig's voice. The instrumental "Traum" is another electric and eclectic number, pointing in the direction that band would eventually follow. The album has achieved cult status since its release, and rightly so.