H To He Who Am The Only One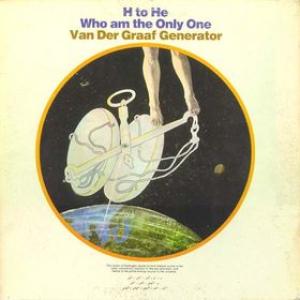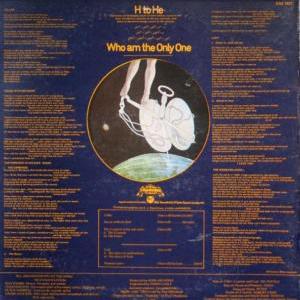 Artist:
Van Der Graaf Generator
Tracklist
A1
Killer
8:24
Notes:

Bass - Nic Potter

A2
House With No Door
6:37
Notes:

Bass - Hugh Banton
Piano - Peter Hammill

A3
The Emperor In His War-Room
8:16
Notes:

Bass - Nic Potter

A3a
Part I - The Emperor
A3b
Part II - The Room
B1
Lost
11:17
Notes:

Bass - Nic Potter

B1a
Part I - The Dance In Sand And Sea
B1b
Part II - The Dance In Frost
B2
Pioneers Over C.
12:42
Notes:

Bass - Hugh Banton
Guitar - Robert Fripp
Credits
Alto Saxophone, Tenor Saxophone, Baritone Saxophone, Flute, Vocals - David Jackson
Drums, Timpani, Percussion - Guy Evans
Engineer - Robin Geoffrey Cable
Engineer [Assistant] - David Hentschel
Lead Vocals, Acoustic Guitar - Peter Hammill
Organ [Hammond, Farfisa], Piano, Performer [Oscillator], Vocals - Hugh Banton
Producer - John Anthony
Notes
Alternative cover. Seems to be released latter in the US: 1970 and MCMLXX as a copyright date printed on back cover, but 1972 printed on label.
Strawberry Bricks Entry:
The title of Van der Graaf Generator's third album refers to "the fusion of hydrogen nuclei to form helium… the prime energy source in the universe." Heavy stuff. Of course, Peter Hammill's lyrics could best be described as intellectual prose; he's usually philosophizing his take on the human condition-ah, the Jesuit education?! Peerless, Hammill's vocal delivery was just as dramatic as the band's music, and one that would polarize: Either you got it or you didn't. Foremost, H to He, Who Am The Only One presents the fully developed VdGG sound: one moment still and introspective, the next complex and firing. The music contains a passion few of their contemporaries could convey, and a presentation even fewer would dare to attempt. But for all of its apocalyptic vision, the album is ultimately cathartic. In "Killer," Hammill likens himself to a shark in the ocean, only to remind himself, "We need love!" (The track also was credited to David Jackson and Chris Judge Smith, as it shares a part of Heebalob's "A Cloud as Big as a Man's Hand.") And so the others follow: "House with No Door" shines with simple beauty, while "The Emperor in His War Room" is dynamic, punctuated by guest Robert Fripp's sustained lead guitar. The seesaw of "Pioneers over C" remains the classic VdGG archetype. The band is invincible throughout: Jackson alternates between flute and saxophone, Guy Evans provides nimble but accurate time and the Hugh Banton organ tone is unparalleled. Both "Killer" and "Lost" remained live staples for the band. Nic Potter left during the recording of the album and was replaced permanently by the addition of bass pedals onto Banton's organ rig. The band would remain a quartet and spend the next year on tour, which included a spot on the now legendary Charisma Package Tour (aka "Six Bob" tour) with labelmates Genesis and Lindisfarne in early 1971.