Hamburger Concerto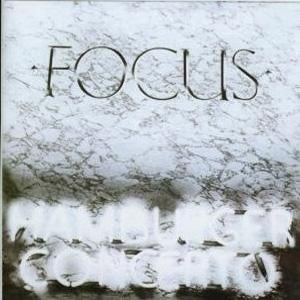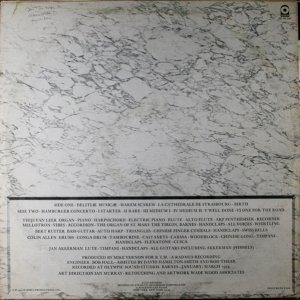 Tracklist
A1
Delitiae Musicae
1:12
A2
Harem Scarem
5:51
A3
La Cathedrale De Strasbourg
4:59
A4
Birth
7:46
B1
Hamburger Concerto
20:15
Credits
Art Direction – Ian Murray (4)
Art Direction, Design [Retouching] – Wade Wood Associates
Bass, Autoharp, Triangle, Cymbal [Chinese Finger Cymbals], Handclaps, Bells [Swiss] – Bert Ruiter
Drums, Congas, Tambourine, Castanets, Cabasa, Temple Block [Woodblock], Gong [Chinese], Timpani, Handclaps, Percussion [Flexatone], Cuica – Colin Allen
Engineer – Bob Hall
Engineer [Assistant] – David Hamilton-Smith, Rod Thear
Lute, Timpani, Handclaps, Guitar – Jan Akkerman
Mastered By – Harry Fisher
Organ, Piano, Harpsichord, Electric Piano, Flute, Flute [Alto], Synthesizer [Arp], Recorder, Mellotron, Vibraphone, Accordion, Organ [The Organ Of St. Mary The Virgin, Barnes], Handclaps, Vocals [All Voices], Whistling – Thijs van Leer
Photography – Graham Hughes
Producer – Mike Vernon
Written-By – Jan Akkerman (tracks: A4, B2 to B4, B6), Thijs van Leer (tracks: A2, A3, B3, B5)
Notes
Recorded at Olympic Sound Studios, Barnes - January/March 1974.
Strawberry Bricks Entry:
At the end of 1973, Pierre van der Linden left Focus to form Trace with Rick van der Linden from Ekseption; British drummer Colin Allen, previously with John Mayall's Bluesbreakers and Stone The Crows, was flown in as a replacement. Although it had been over two years since the band's last album, Hamburger Concerto again offers another installment of classic Focus music. The brief "Delitiae Musicae" opens, confirming both Thijs van Leer and Jan Akkerman's love of classical music—something they also pursued in contemporaneous solo works. The rocking "Harem Scarem" follows, tongue firmly in cheek. After its protracted introduction, "La Cathédrale de Strasbourg" swings beautifully with a Robert Wyatt-esque whistle solo from van Leer. With its trademark Focus melody, "Birth" reprises itself for another round before ending the side. Allen is sure-footed throughout, providing a solid bottom to the music. The title track spans the entire second side; and despite the regal intro, Focus remains grounded throughout, delivering one of their finest compositions and performances on record. The classical borrowings and instrumental acrobatics are certainly here, but so is a lot of restraint; neither the band's arrangement nor their delivery ever gets tedious. Van Leer's use of vocalizing on "Medium I" is completely effective; and there's also an orgy of analog sounds, including a classic Leslie-driven guitar riff from Akkerman opening "Rare" and Van Leer's saw-toothed ARP lead on the finale, "One for the Road." Unfortunately, this was the last charting album for the band, reaching No. 20 in the UK and No. 66 in the US. The Focus story pretty much ends here. Featuring much shorter tracks, the highly funky Mother Focus was recorded piecemeal in 1975, with minimal contribution from Akkerman. Worth seeking out however is the compilation Ship Of Memories, which contains some of the aborted recordings from 1973 and an early version of the track "Hamburger Concerto." Massive personnel changes ensued before a final, best-forgotten album with P.J. Proby was released in 1978.