Heaven And Hell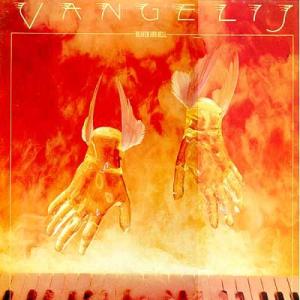 Tracklist
A1
Heaven And Hell (Part 1)
21:58
A2
So Long Ago, So Clear
4:56
Notes:

Vocals - Jon Anderson

B
Heaven And Hell (Part 2)
21:09
Credits
Conductor - Guy Protheroe
Orchestra - English Chamber Choir
Notes
Recorded at Nemo Studios in London in septembre 1975.
Strawberry Bricks Entry:
Vangelis embarked on his solo career while still a member of Aphrodite's Child, the earliest fruits of which were several soundtracks, mostly recorded at Studio Europa Sonor in Paris. Both Hypothesis and The Dragon, recorded in London for Giorgio Gomelsky in 1971 (and released without Vangelis's permission in 1978), were little more than jam sessions-albeit pretty good ones-fusing psychedelic rock with jazz and ethnic influences. His first solo album proper, 1974's Earth, was recorded for Vertigo. Slightly uncharacteristic of his later work, it featured Robert Fitoussi on vocals and former bandmate Silver Koulouris on acoustic guitars. Mellow and spacious, the collection of songs was unique in his catalog. In 1975, Vangelis signed to RCA Records and moved shop to London where he set up his Nemo Studios, with the advance paying for the electronic gear. Vangelis had been asked to replace Rick Wakeman in Yes, but it wasn't meant to be; instead he forged what would become a fruitful partnership with Jon Anderson. The first taste of this collaboration is contained here, on the ethereal (and sappy) "So Long Ago, So Clear." Yet Heaven And Hell is pure Vangelis; it's huge and powerful, rooted in choral and symphonic tradition; but at the same time, not without some electronic exploration. His themes run from the simple ("Needles & Bones") to the bombastic ("Symphony to the Powers B"), but their textures are what set him apart. Although he'd get classified in the new age bin, Vangelis remains a pioneer of electronic keyboard music. In addition to a steady stream of soundtrack work, he would create a sizable catalog over the years, but those released on RCA, alternating between the symphonic (Albedo 0.39, Spiral) and the experimental (Beauborg), should all be considered essential.