Heldon 6 Interface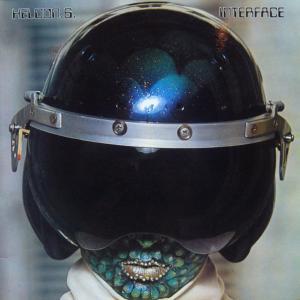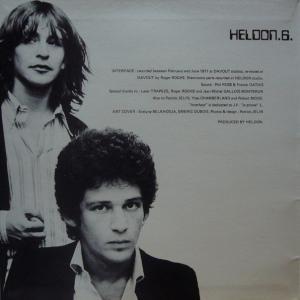 Tracklist
A1
Les Soucoupes Volantes Vertes
2:28
Notes:

Bass [Moog] - Patrick Gauthier
Composed By - François Auger
Synthesizer [Moog 3, Moog B] - Richard Pinhas

A2.1
Part I: In New-York Or Paris, Equivalent
A2.2
Part II: In South Bronx
A3
Le Retour Des Soucoupes Volantes
2:21
Notes:

Synthesizer [Mini-moog], Bass [Moog], Composed By - Patrick Gauthier

A4
Bal-A-Fou
7:25
Notes:

Bass - Didier Batard
Synthesizer [Mini-moog] - Patrick Gauthier
Synthesizer, Percussion [Percussive & Events], Composed By - François Auger

A5
Le Fils Des Soucoupes Volantes (Vertes)
1:56
Notes:

Bass [Moog] - Patrick Gauthier

B
Interface
19:02
Notes:

Bass [Moog], Synthesizer [Mini-moog] - Patrick Gauthier
Percussion [Synthesized Percussive] - François Auger
Credits
Artwork By [Cover] - Emeric Dubois
Artwork By [Cover] - Evelyne Belkhodja
Composed By - Richard Pinhas
Drums - François Auger
Electronics - Richard Pinhas
Engineer [Sound] - Franck Dathis
Engineer [Sound] - Phil Ross
Guitar - Richard Pinhas
Photography, Artwork By [Design] - Patrick Jelin
Producer - Heldon
Producer - Richard Pinhas
Remix - Roger Roche
Notes
Recorded between February and June 1977 at Davout studios, re-mixed at Davout.
Electronics parts recorded at Heldon studio. Produced for Heldon Davout Studios - Ed. Cézame
Special thanks to: Laser Trapeze, Roger Roche and Jean-Michel Gallois Montbrun. Also to Patrick Jelin, Yves Chamberland and Robert Moog.
"Interface" is dedicated to J.F. "le prince" L.