I Suoni In Una Sfera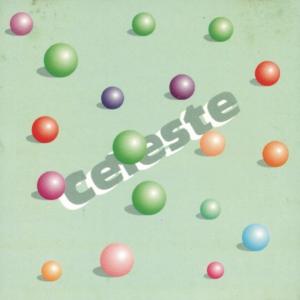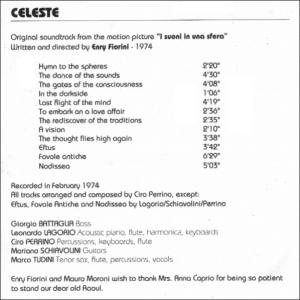 Tracklist
1
Hymn To The Spheres
2:20
Notes:

Ciro Perrino - Composed By

2
The Dance Of The Sounds
4:30
Notes:

Ciro Perrino - Composed By

3
The Gates Of The Consciousness
3:08
Notes:

Ciro Perrino - Composed By

4
In The Darkside
1:06
Notes:

Ciro Perrino - Composed By

5
Last Flight Of The Mind
4:19
Notes:

Ciro Perrino - Composed By

6
To Embark On A Love Affair
2:36
Notes:

Ciro Perrino - Composed By

7
The Rediscover Of The Traditions
2:35
Notes:

Ciro Perrino - Composed By

8
A Vision
2:10
Notes:

Ciro Perrino - Composed By

9
The Thought Flies High Again
3:38
Notes:

Ciro Perrino - Composed By

10
Eftus
3:42
Notes:

Ciro Perrino - Composed By
Leonardo Lagorio - Composed By
Mariano Schiavolini - Composed By

11
Favole Antiche
6:29
Notes:

Ciro Perrino - Composed By
Leonardo Lagorio - Composed By
Mariano Schiavolini - Composed By

12
Nodissea
5:03
Notes:

Ciro Perrino - Composed By
Leonardo Lagorio - Composed By
Mariano Schiavolini - Composed By
Credits
Giorgio Battaglia - Bass
Mariano Schiavolini - Guitar
Leonardo Lagorio - Keyboards, Flute, Harmonica
Ciro Perrino - Percussion, Keyboards, Flute, Producer
Mauro Moroni - Producer
Marco Tudini - Tenor Saxophone, Flute, Percussion, Vocals
Notes
Original soundtrack from the motion picture "I suoni in una sfera" written and directed by Enry Fiorini - 1974.
Recorded February 1974.
Notes...
Although credited to Celeste, this soundtrack (tracks 1 to 9) would actually seem to be a Ciro Perrino album, possibly a library LP (as it is clearly sourced from an LP record with crackle and groove noise) although no one has determined the actual source as yet. Director Enry Fiorini is not documented anywhere on the web.
Tracks 10/11/12 are unreleased archives by Celeste, from an unspecified date.