If I Could Do It All Over Again, I'D Do It All Over You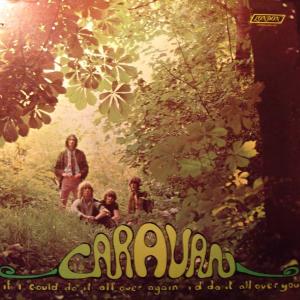 Tracklist
A1
If I Could Do It All Over Again, I'D Do It All Over You
3:07
A2
And I Wish I Were Stoned (Don't Worry)
8:21
A3
As I Feel I Die
5:17
A4
With An Ear To The Ground You Can Make It (Martinian, Only Cox, Reprise)
9:56
B1
Hello Hello
3:46
B2
Asforteri 25
1:21
B3
Can't Be Long Now (Francoise, For Richard, Warlock)
14:18
B4
Limits
1:34
Credits
Co-producer - Terry King
Flute - Jimmy Hastings
Producer - Caravan
Notes
Original U.S 1970 release on London Records.
Back cover reads "Copywright 1970 Decca Record Company Ltd, London. Exclusive U.S agents, London Records Inc. 539 West 25th Street, New York, N.Y. 10001"
Strawberry Bricks Entry:
By mid-1969, Caravan enlisted the services of manager Terry King, who in turn secured the band a long-term recording contract with Decca Records. First out was the Soft Machine-esque single "If I Could Do It All over Again, I'd Do It All over You" b/w "Hello Hello." It had some success, which resulted in a Top of the Pops appearance for the band, perhaps also raising the bar for their second effort, to which the band responded with the incredulously titled If I Could Do It All Over Again, I'd Do It All Over You. The humor was ever-present, of course, with song titles (e.g. "And I Wish I Were Stoned") emblematic of what would become typical Canterbury humor. Each side of the record opens with a side of the 45 single; however, the album plays straight through, in another of the so-called Canterbury tradition: continuous play. "As I Feel I Die" starts off meekly, but picks up at a brisk pace as it unfolds. "With an Ear to the Ground / You Can Make It / Martinian / Only Cox / Reprise," the first in a Caravan tradition of multi-section suites, contains some particularly delicate moments, thanks in part to Jimmy Hastings's flute work. But their greatest strength here is excellent songwriting, both highly original and with a slightly psychedelic bent. Caravan's groove was neither funky nor bluesy, yet it had an undeniable swing. Sweeping melodies dominate, flowing in between with riff and groove-most notably on the epic (and appreciably hard-rocking) segment of "For Richard."