Kingdom Of Life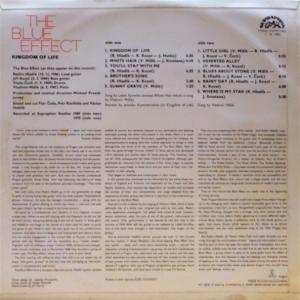 Tracklist
A1
Kingdom Of Life
4:35
Notes:

Jaroslav Kummermann - Read By [Recited By]
Jaroslav Hutka - Written-By
Karel Kozel - Written-By
Radim Hladík - Written-By

A2
White Hair
4:10
Notes:

Jiří Smetana - Written-By
Vladimír Mišík - Written-By

A3
You'll Stay With Me
4:35
Notes:

Karel Kozel - Written-By
Radim Hladík - Written-By

A4
Brother's Song
2:30
Notes:

Karel Kozel - Written-By
Radim Hladík - Written-By

A5
Sunny Grave
1:55
Notes:

Vladimír Mišík - Written-By

B1
Little Girl
3:55
Notes:

Jiří Kozel - Written-By
Radim Hladík - Written-By
Vladimír Mišík - Written-By
Vlado Čech - Written-By

B2
Deserted Alley
3:15
Notes:

Karel Kozel - Written-By
Vladimír Mišík - Written-By

B3
Blues About Stone
8:10
Notes:

Jiří Kozel - Written-By
Radim Hladík - Written-By
Vladimír Mišík - Written-By
Vlado Čech - Written-By

B4
Rainy Day
4:00
Notes:

Jiří Kozel - Written-By
Karel Kozel - Written-By
Radim Hladík - Written-By

B5
Where Is My Star
3:30
Notes:

Jiří Smetana - Written-By
Radim Hladík - Written-By
Credits
Jiří Kozel - Bass Guitar
Ladislav Provazník - Design [Cover Design]
Vlado Čech - Drums
Petr Kocfelda - Engineer [Sound, Cut]
Petr Čada - Engineer [Sound, Cut]
Václav Heblík - Engineer [Sound, Cut]
Vladimír Mišík - Flute
Radim Hladík - Lead Guitar
Dušan Šimánek - Photography By [Cover Photo]
Michael Prostějovský - Producer, Recording Supervisor [Musical Direction]
Jiří Černý - Sleeve Notes
Lešek Semelka - Vocals
Vladimír Mišík - Vocals
Notes
Recorded at Supraphon Studios 1969 (side two) 1970 (side one)
Artia Prague
Made in Czechoslovakia
℗ 1971
———
PZO Artia export release.
1972 pressing with blue labels.
Uncredited:
Basic instrumental tracks on side A, as well as the complete side B (incl. the matrix number) are identical to the original 1970 release "[r=2018388]" (Supraphon 1 13 0689), recorded June–August 1969 at studio Dejvice.
Vocal overdubs A1, A3 & A4 recorded on October 21, 1970 at studio Mozarteum.
The correct "[a=Jaroslav Kummermann]" credit on track A1 was subsequently replaced on later represses due to censorship by a fake "[a=Jaroslav Čmehil]" credit.
Track A5 is instrumental, with erroneously credited vocals on center label.
Original Czech track titles side A:
Paměť lásky, Blue Effect Street, Fénix, Stroj na nic, Sluneční hrob
Flipback sleeve.