King's Progress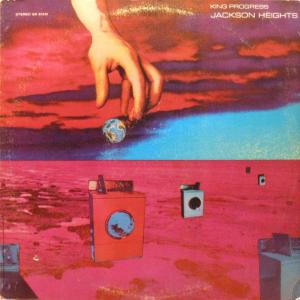 Tracklist
A1
Mr. Screw
3:17
A2
Since I Last Saw You
7:00
A3
Sunshine Freak
4:49
A4
King Progress
3:27
B1
Doubting Thomas
4:12
B2
Insomnia
5:00
B3
Cry Of Eugene
7:52
Notes:

David O'List - Written-By
Keith Emerson - Written-By
Lee Jackson - Written-By
Credits
Lee Jackson - Acoustic Guitar, Harmonica, Vocals
Jackson Heights - Arranged By, Written-By
Mario Enrique Covarrubias Tapia - Bass, Guitar [Spanish], Vocals
Hipgnosis - Design [Sleeve], Photography
Tommy Slone - Drums, Congas, Triangle, Percussion
Charlie Harcourt - Electric Guitar, Piano, Organ, Harpsichord, Mellotron, Guitar [Spanish], Vocals
Eddy Offord - Engineer [Advision Studios]
Damon Lyon-Shaw - Engineer [Ibc Studios]
Lee Jackson - Producer
Charlie Harcourt - Written-By
Lee Jackson - Written-By
Notes
This release has a cover variation, this release has STEREO SR 61331 on the front, upper left, the other one listed does not have anything on the front, upper left part of the cover.
Released with a gatefold cover.
Strawberry Bricks Entry:
Following the breakup of The Nice in March 1970, bassist and vocalist Lee Jackson turned to Tony Stratton-Smith and Charisma for his next project, Jackson Heights. A debut album was recorded with a few friends, but a band never materialised and despite touring with Charisma labelmates, he was eventually dropped by the label. It's a shame because Kings Progress is a good album, full of gentle acoustic songs sung by Jackson. The lively "Mr. Screw" kicks off, but the longer "Since I Last Saw You" evokes a darker mood, more representative of the album. Jackson's and Charlie Harcourt's guitars are prominent, a far different texture than The Nice ever offered. "Sunshine Freak" invokes a 60s vibe, while the title track, complete with orchestration, is more formal. The album ends with a laid-back re-recording of The Nice's "Cry of Eugene." Recruiting keyboardists Brian Chatton (ex-Flaming Youth) and John McBurnie, Jackson's fortunes turned when the band was signed by Vertigo. The band however toured without a drummer, with Michael Giles only contributing to their studio recordings. Two albums were quickly released in 1972, Fifth Avenue Bus and Ragamuffins Fool (the latter titled Jackson Heights in the US). Both signal a change in direction: Jackson's unique and distinct voice takes a backseat to McBurnie's vocals and Chatton's piano. They're both venerable albums and not without their moments ("Autumn Brigade" and "Catch a Thief," respectively), but ultimately they offered more straight-forward and less interesting music. A third album was released in 1973, the lasciviously titled (and covered) Bump N Grind. Jackson then approached Swiss keyboardist Patrick Moraz for touring, which ultimately led to the demise of Jackson Heights and the rise of his next project, Refugee.