La Düsseldorf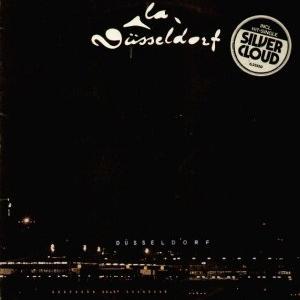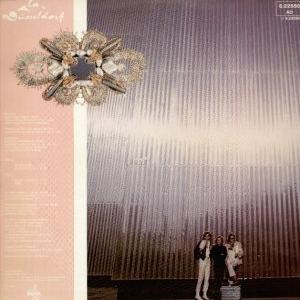 Tracklist
A1
Düsseldorf
13:17
A2
La Düsseldorf
4:28
B1
Silver Cloud
8:01
B2
Time
9:24
Credits
A&R [Representation For U.K.] – Jain Stewart
Artwork [La Düsseldorf Trademark] – Achim Duchow
Artwork [Ornaments] – Christina Schnell
Design [Cover, Styling] – Dinger-Brothers
Engineer – Konrad Plank*
Engineer [Assistants] – Petrus*, Udo*
Guitar, Vocals – Klaus Dinger
Keyboards, Synthesizer – Nikolaus van Rhein
Mastered By – S*
Other [Trademark Re-done By] – Tina
Percussion, Electronics – Hans Lampe (2)
Percussion, Vocals, Synthesizer – Thomas Dinger
Photography By [Back Cover] – H.R. Jonas
Photography By [Front Cover] – Heinz Dinger
Photography By [Internegs] – Sabine (16)
Producer – Konrad Plank*, La Düsseldorf
Written-By – Dinger*
Notes
Made By – TELDEC »Telefunken-Decca« Schallplatten GmbH
Recorded At – La Düsseldorf Studio
Recorded At – Conny's Studio
Remixed At – Conny's Studio
Mastered At – TELDEC-Studio, Hamburg
Pressed By – Teldec-Press GmbH
Recorded September-Dezember 1975.
Remixed at Conny's Studio.
℗ 1976
Internegs at Osiris Studios, London
Comes with printed single sheet in LP size.
Strawberry Bricks Entry:
After leaving Neu!, drummer Klaus Dinger, along with his brother Thomas and Hans Lampe, formed the like-minded La Düsseldorf, in tribute to their native city. Conny Plank was enlisted for production duties, while Klaus switched to guitar and vocals, purportedly to aim the band toward a "pop" styling. Simply titled La Düsseldorf, their debut recording was released by Teledec/Nova in mid-1976. With soaring synths and melodies complementing Klaus's breathy vocals, the opening track, "Düsseldorf," is an effervescent, light-hearted offshoot of the typical Neu! formula. Over the same infectious beat, the following "La Düsseldorf" shows a punkier edge. Yet punk the white overall-clad Klaus certainly wasn't; take a listen to his hippie anti-establishment lyrics here. "So many gangsters" indeed! A single from the album, "Silver Cloud" b/w "La Düsseldorf," was a surprise hit earlier in the year, reaching No. 2 in the German hit parade. On the album, it's a pleasant instrumental, repeating its infectious groove in long-form. "Time" closes the album, another strong number that ambles forward under a majestic organ riff. Both tracks feature ex-Thirsty Moon Harald Konietzko on bass. The album was as influential as it was successful, with David Bowie claiming that it was a significant influence on his upcoming Low album. La Düsseldorf's follow-up, Viva, was released in 1978 and continued where their debut left off. It also was a success, driven by another hit single, "Rheinita" b/w "Viva," which reached No. 3 on the German charts. A third album, Individuellos, would see release in 1981; but the death of bandmate Andreas Schell and a failed third single hailed the band's end. A final album with Plank producing, Néondian, was recorded but quickly withdrawn (and would finally be reissued as Mon Amour in 2017). Little would be heard from Dinger until he teamed up, even quite contentiously, with Japanese label Captain Trip in the 90s.