Lady Lake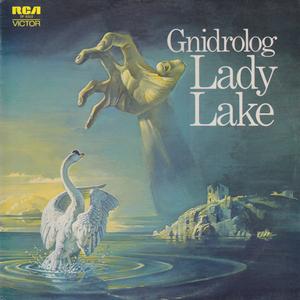 Tracklist
A1
I Could Never Be A Soldier
A2
Ship
A3
A Dog With No Collar
B1
Lady Lake
B2
Same Dreams
B3
Social Embarrassment
Credits
Bass, Cello - Peter Cowling
Composed By - Gnidrolog
Design [Cover Design] - Peter Cowling
Engineer - Mike Butcher
Illustration [Cover] - Bruce Pennington
Lead Guitar - Stewart Goldring
Lead Vocals - John Earle
Lyrics By - Colin Goldring
Lyrics By - Peter Cowling
Lyrics By - Stewart Goldring
Percussion, Flute, Oboe - Nigel Pegrum
Piano - Charlotte Fendrich
Producer - Dick Parkinson
Producer - Gnidrolog
Rhythm Guitar, Vocals, Recorder, Horn [Tenor] - Colin Goldring
Soprano Saxophone, Tenor Saxophone, Baritone Saxophone, Flute - John Earle
Notes
Released with a lyrics insert.
Strawberry Bricks Entry:
An anagram for the Goldring twins' surname, Londoners' Colin and Stewart formed Gnidrolog in 1969. Joining them was bassist Peter "Mars" Cowling and drummer Nigel Pegrum, the latter having been in the pre-Uriah Heep band Spice. Gnidrolog toured extensively, supporting numerous progressive acts, as evidenced on dozens of concert bills from the era; Colin, most famously, added recorder to Yes' "Your Move" from The Yes Album. Signing to RCA records, the band released the dreadfully titled In Spite Of Harry's Toenail in early 1972. A keyboard-less affair, it's almost charitable to call it a challenge to listen to; however, it's not without some reward. It charts the same territory as Van der Graaf Generator or King Crimson, exploring odd-meter composition and dissonance mainly through Stewart's angular guitar and Colin's uncomfortably high tenor. "Long Live Man Dead" and "Snails" are highlights. John Earle then joined on sax and flute, upping the ante for the band's second effort, Lady Lake, also released in 1972. "I Could Never Be a Soldier" leads off; it's a strong tune with forthright lyrics, though the instrumental passages are filled with the band's tight musicality. Cowling and Pegrum, in lock groove, offer a solid foundation over which Stewart and Earle easily solo. "Ship" follows, with Colin and Earle's horns leading the way. The muscular "Lady Lake" offers a progressive tour-de-force from the band, its closing march dark and foreboding. "Social Embarrassment" closes, and it's another strong track highlighting the band's penchant for robust melody and arrangement. Despite an excellent album-one certainly on par with other progressive groups from the era-success eluded the band, and they broke up. Under pseudonyms, the Goldrings, Pegrum and Rick Kemp would form the raunchy The Pork Dukes in the late 70s. Pegrum would later spend nearly two decades with Steeleye Span, while Cowling would join the Pat Travers Band. Earle, meanwhile, became a well-regarded and seasoned session player.