The Lamb Lies Down On Broadway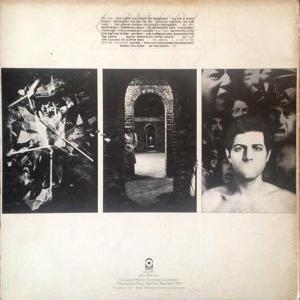 Tracklist
A1
The Lamb Lies Down On Broadway
4:55
A2
Fly On A Windshield
2:47
A3
Broadway Melody Of 1974
1:58
A4
Cuckoo Cocoon
2:14
A5
In The Cage
8:15
A6
The Grand Parade Of Lifeless Packaging
2:45
B1
Back In N.Y.C.
5:49
B2
Hairless Heart
2:25
B3
Counting Out Time
3:45
B4
The Carpet Crawlers
5:16
B5
The Chamber Of 32 Doors
5:40
C1
Lilywhite Lilith
2:40
C2
The Waiting Room
5:28
C3
Anyway
3:18
C4
Here Comes The Supernatural Anaesthetist
2:50
C5
The Lamia
6:57
C6
Silent Sorrow In Empty Boats
3:06
D1a
The Arrival
D1b
A Visit To The Doktor
D1c
The Raven
D2
Ravine
2:05
D3
The Light Dies Down On Broadway
3:32
D4
Riding The Scree
3:56
D5
In The Rapids
2:24
D6
IT
4:58
Credits
Artwork By [Retouching] - Richard Manning
Bass, Guitar [Twelve-string] - Mike Rutherford
Design [Sleeve], Photography - Hipgnosis
Electronics [Enossification] - Brian Eno
Engineer - Dave Hutchins
Guitar - Steve Hackett
Keyboards - Tony Banks
Liner Notes - Peter Gabriel
Other [Rael] - Omar
Percussion, Vibraphone [Vibing], Voice [Voicing] - Phil Collins
Photography [Vaults] - George Hardie
Producer - Genesis
Producer - John Burns
Vocals, Flute - Peter Gabriel
Written-By, Performer, Arranged By - Genesis
Notes
Recorded in Wales with the Island Mobile Studio and mixed at Island Studios.
Gatefold release with printed paper inner sleeves includes lyrics and story.
Strawberry Bricks Entry:
If one had to pick an album to define progressive rock, it would be a double; and more often than not, Genesis' The Lamb Lies Down on Broadway would top the list. The sprawling double-album revolves around Peter Gabriel's story of a NYC street kid, Rael; that it roughly approximates every boy's journey out of adolescence is more than likely what gives the album its universal appeal. The anthem of "The Lamb Lies Down on Broadway" begins with Tony Banks's rolling piano giving away to Mike Rutherford's monster bass line. Immediately, this isn't the bucolic or quirky Genesis of albums past. The production is thick, loud and upfront; and above all, appropriate. The Mellotron on "Fly on a Windshield" lends a menacing edge, while the playful melody of "Cuckoo Cocoon" provides the album's single. "In the Cage" reignites the proceedings, with Banks offering some huge synthesizer lines. One can feel the testosterone in "Back in NYC;" with Gabriel's lyrics direct and his delivery forceful, it's totally in your face. "Counting Out Time" is similarly immediate—sexual initiation laid out in numbers. The melodic emotion of "The Carpet Crawlers" points to the future, as does "The Chamber Of 32 Doors." After the roar of "Lillywhite Lilith," the third side meanders until the elegant "The Lamia" slithers in, one of the strongest melodies on the album. Steve Hackett, who's also taken a step up in the mix, provides one his most elegant guitar solos on record. With a rollicking organ line, "The Colony of Slipperman" then hastens the pace. "The Light Lies Down on Broadway" reprises the journey so far, and the transition from here to the end of the record is as smooth as the first side. "In the Rapids" is a kind of emotional finale to the work and finally, Gabriel leaves us with the moral of the story, something Monty Python's Knights of Ni would certainly not want to hear! Put it all in a first-class Hipgnosis gatefold jacket and it's not hard to see why this became Genesis' bestselling album to date. Massive and sprawling, the album is nonpareil; the band is inventive, profound and, at times, timeless. Genesis embarked on a world tour from late 1974 until mid-75 in support of the album, performing the epic Lamb—costume changes and all—in its entirety for each show (none were filmed). The tour also proved to be one of the catalysts for Gabriel's departure from the band. The remaining four members would regroup in July 1975; but that of course, is another story.