Lambert Land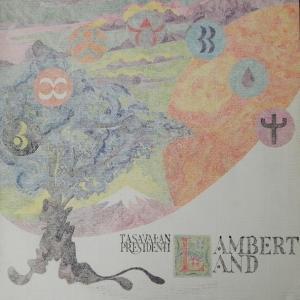 Artist:
Tasavallan Presidentti
Tracklist
A1
Lounge
A2
Lambertland
A3
Celebration Of The Saved Nine
B1
The Bargain
B2
Dance
B3
Last Quarters
Credits
Måns Groundstroem - Bass
Vesa Aaltonen - Drums
Erkki Hyvönen - Engineer
Gert Palmcrantz - Engineer
Jukka Tolonen - Guitar, Music By
Mats Huldén - Lyrics By
Pekka Pöyry - Music By
Samuel B. Charters - Producer
Pekka Pöyry - Saxophone, Flute
Eero Raittinen - Vocals
Notes
Recorded April-May 1972 at Finnvox Helsinki, Finland and at Europafilm Stockholm, Sweden.
℗ 1972 by Sonet Grammofon AB.
Gatefold Cover.
Strawberry Bricks Entry:
Formed by Guitarist Jukka Tolonen and drummer Vesa Aaltonen, Tasavallan Presidentti ("President of the Republic") also featured bassist Måns Groundstroem and a British singer, Frank Robson, both previously in Finland's Blues Section. After the band's debut album, Pekka Pöyry joined on flute and sax for the Swedish-only release (and somewhat overlapping) Tasavallan Presidentti II. Like their first record, there's a heavy debt to Traffic and even Procol Harum, though both contain world-class performances. Vocalist Eero Raittinen replaced Robson prior to the recording of their next album, Lambert Land. "Lounge" kicks the album off with a healthy cocktail of guitar, sax, flute and piano. Jazzy and tightly interwoven, the band offer a spry and progressive record full of originality and atmosphere—undoubtedly due in part to the production of American expatriate Sam Charters, best known for his work with Country Joe and the Fish. Raittinen's voice is a welcome addition, as it's one that avoids the clichés of his British counterparts. The title track traces a haunting organ line, offering something dark and deep, before breaking out into the jazz-backed "Celebration of the Saved Nine," the lone composition from Pöyry. The second side's "The Bargain" delivers a groove and interior monologue similar to Can (!) before relenting to Tolonen's epic "Dance." As the track's explosive solo attests, the Finnish guitarist is an exceptional talent, who indubitably helped propel the band to the West. "Last Quarters" closes; it's a splendid song, carried by a solitary flute, Leslie-fed guitar and Raittinen's double-tracked vocal. All in all, it stands as the classic Scandinavian album of the progressive era. Tasavallan Presidentti decamped to the UK in late 1972 and again in Spring 1973, where they ultimately recorded their final album at De Lane Lea Studios with Peter Eden. Milky Way Moses saw international release in 1974, along with a reissue of the 1971 solo album Tolonen! But with Tolonen now solo, the band splintered and Groundstroem went off to Wigwam. Tolonen would record a few albums in the early 80s with Samla Mammas Manna guitarist Coste Apetrea.