The Least We Can Do Is Wave To Each Other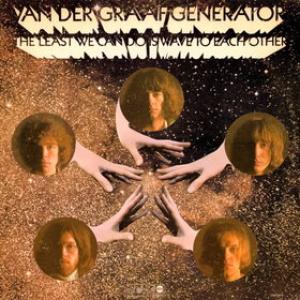 Artist:
Van Der Graaf Generator
Tracklist
A1
Darkness (II/II)
7:11
A2
Refugees
6:13
A3
White Hammer
8:08
B1
Whatever Would Robert Have Said?
5:50
B2
Out Of My Book
3:58
Notes:

Written-By - David Jackson
Written-By - Peter Hammill

B3
After The Flood
11:34
Credits
Acoustic Guitar, Vocals - Peter Hammill
Bass Guitar, Electric Guitar - Nic Potter
Drums, Percussion - Guy Evans
Organ, Piano, Vocals [Backing] - Hugh Banton
Saxophone, Flute, Vocals [Backing] - David Jackson
Written-By - Peter Hammill
Notes
"We're all awash in a sea of blood, and the least we can do is wave to each other." - John Milton
Strawberry Bricks Entry:
Following the release of The Aerosol Grey Machine, careful manipulation from Charisma label founder Tony Stratton-Smith released Peter Hammill from his contract with Mercury Records, allowing Van der Graaf Generator the freedom to join the Charisma stable of artists. Hammill and Hugh Banton then reunited the band, with Guy Evans recruiting bassist Nic Potter from The Misunderstood. Yet the arrival of sax player David Jackson, previously with Chris Judge Smith in Heebalob, was when all the pieces fell into place for the band. Thus constituted, VdGG begins in earnest with their second album, The Least We Can Do Is Wave To Each Other. Mind you, VdGG weren't your typical band; effectively without electric guitar, Jackson's saxophone was the band's lead instrument and, in Roland Kirk style, he would even play two or three horns at a time. Banton was also key-an organist certainly in the league of Keith Emerson or Vincent Crane. The powerful "Darkness (11/11)" opens the album, immediately revealing VdGG's original craft. Jackson's wailing sax work is the band's signature, masking any trace of influence with his own originality. The elegant "Refugees" continues in the tradition of "Afterward," as does the second side's "Out of My Book." Both are in sharp contrast to the apocalyptic refrains of "After the Flood" and "White Hammer." Brash and brazen, the band alternate between calm and storm—another of the idiosyncrasies that would define their music. The album served as their debut in the UK, and even managed to do something that no other VdGG album would accomplish there: chart, at No. 47.